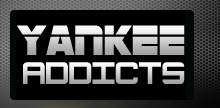 February 3, 2012 · Ken DeJohn · Jump to comments
Article Source: Bleacher Report - New York Yankees
It may be too early to call Robinson Cano the best second baseman in Yankees history, but he should certainly be considered one of the best.
The title of best second baseman in team history most likely goes to the great Tony Lazzeri.
Lazzeri sports a career slash line of .293/.379/.467 with 169 home runs and 1,154 RBIs in 12 seasons wearing the pinstripes.
Cano, through seven seasons, owns a slash line of .308/.347/.496 with 144 home runs and 621 RBIs.
Through his first seven seasons, Lazzeri posted a .306/.384/.487 with 96 home runs and 721 RBIs.
Comparatively, Cano seems to be on pace to exceed Lazzeri in nearly each major offensive category.
Ever since being called up to replace the struggling Tony Womack in 2005, Cano has displayed pure hitting ability unlike most others in the game.
In just his second season in the league, Cano hit an astounding .342 in 122 games.
Cano improved in each of his first three seasons until 2008, when he had a very down year. In 159 games, he hit .271/.305/.410 with 14 home runs and 72 RBIs.
He silenced any doubters he had in 2009, placing No. 17 in MVP voting with 25 home runs, 85 RBIs and a .320/.352/.520 slash line. He was one of the main cogs in the Yankees' title run.
But Cano's best season to date came in 2010. He posted a .319/.381/.534 line with a career-high 29 home runs and 109 RBIs.
He also walked a career-high 57 times. His great season resulted in a No. 3 finish in the MVP voting.
Last season, Cano saw similar success. But after posting yet another great season, the question is this: Is this now Cano's team?
Simply put, the answer is yes.
And it should be a resounding "yes" after another strong performance in 2012, as Cano will prove that he's a better hitter than Alex Rodriguez, Mark Teixeira and even Derek Jeter.
In no way am I hating on the aforementioned players. They are all very important to the club.
That being said, Cano sports a skill set that sports fans haven't seen in quite some time; broadcaster Michael Kay constantly compares him to the great Rod Carew.
I predict that Cano will be the 2012 MVP, proving that he will be the premier player on the roster. Expect a season of .330/.375/.540 from Cano, with career highs in home runs (35) and RBIs (125).
The Bombers are now Cano's team, and pitchers around the league should take notice.
If they don't, they'll be contributing to the immaculate legacy that is currently being sculpted by Cano.
Read more New York Yankees news on BleacherReport.com