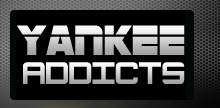 February 2, 2012 · Ken DeJohn · Jump to comments
Article Source: Bleacher Report - New York Yankees
After being stealthily courted by the Yankees prior to the 2009 season, first baseman Mark Teixeira instantly made a huge impact on the team. He signed an eight-year, $180 million contract that would having him manning first base for the team through 2016.
Teixeira gave Yankees fans what they had been missing since the departure of Tino Martinez, an apt-fielding first baseman who could also be a force in the middle of the lineup.
Jason Giambi, the successor to Tino Martinez, was a more-than-capable bat in the middle of the lineup during his tenure in the Bronx, but his fielding left much to be desired. It was so bad that he actually finished up his Yankee career as the designated hitter.
All signs point to Teixeira staying there long-term, however, as his defensive prowess is known throughout the entire league.
His first season in pinstripes was a great success, as the Yankees defeated the Phillies in the 2009 World Series. Tex was arguably the Yankees' best player that season, hitting .292/.383/.565 with a league-leading 39 home runs and 122 RBI. He was an All-Star that season, a Silver Slugger recipient and Gold Glove Award winner.
Not to mention he finished second in the American League MVP voting.
Over the past two seasons, Teixeira has struggled at times with keeping his batting average up. His 2010 and 2011 seasons have resulted in a .252 average with an average of 36 home runs and 110 RBI.
The .040 point dip in batting average is astonishing, as his lowest batting average over any other two-year span during his career was a .270 clip, which he had during his first two seasons in Texas.
Recently, Tex has gone on record saying that he will try to bunt a bit more in 2012 in hopes of beating the defensive shifts that managers across the league employ on him. He's said, "If they're playing a big shift, I might lay some bunts down this year…if i can beat the shift that way, that's important."
Tex has the right mindset coming into spring training this season. Always an optimistic guy, he realizes that both himself and the team will be better off if he lays down a bunt a week this season.
He knows quite well that he was signed to be a power bat in the middle of the lineup. He understands that the club still needs him to hit his share of home runs, but sacrificing a few of those deep fly balls for sure fire singles the other way would definitely be beneficial to the club.
If he does what he says he will, expect Teixeira's batting average and on-base percentage to rise a bit in 2012, possibly reaching .275 and .375, respectively. If that happens, we may see a drop in home runs, but not a large one. He'll still hit 35 home runs.
Heck, his run production might even be better given an increase in hits. He could possibly knock in around 120 runs, similar to his first season in pinstripes.
Although last season was a down season for Teixeira, it was still a productive one. Expect another productive season from the big first baseman in 2012, and don't be surprised if he gets a few bunt singles along the way.
Read more New York Yankees news on BleacherReport.com