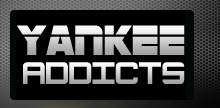 February 1, 2012 · Ken DeJohn · Jump to comments
Article Source: Bleacher Report - New York Yankees
With spring training just around the corner, it's time to start taking a look at how the Yankees lineup will produce in 2012.
First up, we'll look at catcher Russell Martin.
Martin was a welcome addition to the club in 2011, effectively replacing Jorge Posada as the team's starting catcher.
After being non-tendered by the Los Angeles Dodgers in December 2010, Martin was heavily courted by General Manager Brian Cashman. Cashman had always been a big fan of Martin's and he jumped at the chance to sign the young backstop once he hit free agency.
Coming off of a down season in 2010, Martin inked a one-year contract worth $4 million. If he caught 120 games, the value of the contract would increase to $5.4 million.
Not too shabby for someone who had just been non-tendered.
Martin came in and produced right from the beginning. He had a fantastic April, hitting .293 with six home runs and 19 RBI. Additionally, he started nearly every game behind the plate in April, missing just two games because manager Joe Girardi forced him to take the days off.
His hot start led him to be selected as the backup catcher for the American League All-Star team, a title he surrendered to Matt Wieters. Because Wieters had never played in an All-Star game, Martin asked manager Ron Washington to use Wieters in his place.
Although Yankee fans would've loved to have seen Martin play in the game, his stand-up personality fits into the mold of the Yankees perfectly.
Martin's offensive production tapered off towards the end of the season, finishing with a line of .237/.324/.408 with 18 home runs and 65 RBI. He caught 125 games, while also seeing emergency time at third base and second base.
What Yankees fans love most about Martin is his constant hustle and superb defense. Despite Jorge Posada's place in Yankees lore, he was never a great defender. He offered great offense, but unfortunately with much left to be desired behind the plate.
Martin, on the other hand, is an expert signal caller and a catcher that the Yankees staff loved to throw to. Even in just his first season, he became very comfortable with all the pitchers on the staff.
He made it a point to work hard with the pitchers during spring training to make sure that he knew their pitching strategies.
He threw out 30 percent of potential base-stealers in 2011, a large increase from Posada's 2010 total of 15 percent.
So, what can we expect from Martin in 2012?
Given his year of experience in the Bronx, I predict that he will fair slightly better offensively in 2012. Expect increases in his batting average and on-base percentage, possibly reaching .260 and .350, respectively.
Twenty home runs is not out of the question for Martin, either, but expect numbers in the 15-18 range. Another solid season of run production is also a possibility. If he knocks in 70 runs, the Yankees offense will be in great shape.
In the end, any offensive production the Yankees receive from Martin will be a bonus, as his true value to the team lies in his defense. If he can keep the Yankees improved pitching staff under control in 2012, the Yankees will be well on their way to another playoff berth.
Read more New York Yankees news on BleacherReport.com