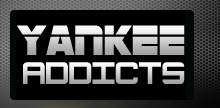 May 11, 2009 · Heartbeat Of The Bronx · Jump to comments
Article Source: Bleacher Report - New York Yankees
In the wake of countless college graduation ceremonies being performed across the Untied States, it is once again time to put the Yankees through the GPA gauntlet.
After giving out the individual April awards during a May 1 banquet, we will now focus on where New York stands after a 2-6 stretch following that date.
The issues surrounding New York's starting rotation and middle relief have been well documented and assessed, and they represent a major catalyst for the team's 15-16 start to 2009.
This grading evaluation will instead focus on the Yankee lineup: a group of men that was anticipated to pummel opponents' rotations until they cried in the corner of the dugout in the fetal position.
Before I hand out the A's, C's, and F's, let's first focus on the strengths and weaknesses of the offensive attack at this juncture of a marathon baseball season.
Offensive Strengths
The Yankees currently stand at eighth in MLB with a .273 team batting average, as well as sixth with a .353 on-base percentage. Additionally, they are second in the league in slugging (.468), fourth in OPS (.821), second in home runs (48), and fifth in runs scored overall (172).
They have shown flashes of greatness and have had a knack for hitting the long ball when they need it most in recent weeks. The bullpen has helped to mask this fact, but there is some reason to view the situation as "half full" moving forward.
New York sits near the top of baseball in a bevy of offensive categories, all while performing far below its expectations and skill set.
Offensive Weaknesses
The season has produced many games that have been first round knockouts, as the starting rotation has left New York with seven- and eight-run deficits to overcome.
Many other games have come down to clutch performance, a skill once the lifeblood of any Bronx lineup. This season, however, the team is currently third to last in the AL with a .244 AVG with runners in scoring position (RISP).
The RISP number is also slightly skewed toward the positive, as many of these hits have occurred in convincing victories. The reality is even more dismal than the statistics indicate.
To make matters worse, the Yankees hit just .240 with RISP and two outs, a stat that truly encompasses the team's struggles to produce with pressures magnified.
The inability to drive in backbreaking runs late in games has left the bullpen in a position to instead break the hearts of Yankees fans.
Semester One Grading Assessment
Valedictorian: Johnny Damon (A+)
After yet another clutch home run against the Orioles on Sunday, Damon now has nine HR, 25 RBI, 23 R, and a .314 batting average.
Damon has had an incredible resurgence in 2009 and has helped to keep a struggling lineup afloat in recent weeks. In nine May games alone, he has produced five HR, 15 RBI, and a .350 average.
The Good
1. Melky Cabrera (A)
Once left for dead within the Yankees organization, Cabrera was as much trade bait as he was a prospective starter. He has saved a center field situation that had become a black hole, hitting .333 in 81 a- bats. He has also added four HR, 10 RBI, and a .407 OBP.
2. Robinson Cano (A-)
Cano has often been considered a lazy or nonchalant athlete, appearing to approach the task at hand without full dedication. His hard work during the offseason has paid off, as he is hitting .321 with six HR, 18 RBI, and 21 R. A recent homecoming of certain bad habits at the plate has caused Cano's consistency to slip, preventing an A grade.
3. Nick Swisher (B+)
The true darling of the Yankees roster in 2009, Swisher had box scores treating him as kindly as fans during April. He ended the month at .312 with seven HR, 19 RBI, and a stellar .430 OBP.
An "A" grade has quickly fallen to a "B+", as Swisher is just 3-for-23 in May (.130). The three hits have occurred in consecutive games, however, so perhaps he is ready to get back on track.
The Bad
1. Derek Jeter (C+)
If Jeter's stats were stretched over a full season, he would produce the lowest AVG, OBP, and RBI totals of his entire career. He had two 0-for-5 games in the last week alone and has been rather pedestrian overall.
The Captain nearly climbed out of the "bad" category as a result of numerous clutch performances in the early weeks of April, helping to prevent an even more embarrassing start for the Yankees.
2. Hideki Matsui (C-)
"Godzilla" was counted on to provide pop from the middle of the lineup in order to compensate for the losses of Alex Rodriguez and Xavier Nady. In 98 at-bats, he has produced just two HR and 12 RBI, offering nothing more than a keen eye to New York.
A .410 OBP for the month of April is the only thing saving Matsui from the "ugly" category, as he is just 7-for-33 in May (.212) with three RBI and a .250 OBP. He also has a propensity to clog up the bases due to his damaged knees.
The Ugly
1. Mark Teixeira (D-)
Teixeira arrived in New York with a $180 million contract and lofty expectations. The subsequent injury to A-Rod then placed the lineup squarely onto his shoulders, and he couldn't handle the responsibility. Still hitting an appalling .198, Teixeira has turned a "historically slow starter" moniker into fears of a never-ending train wreck.
While "Big Tex" is still on pace for 40 HR and 97 RBI, he has come up very small. He has resembled Pedro Cerrano from Major League, as he looks as though he has never seen a professional curveball before. Boos will turn into disownment if he does not turn it around with A-Rod hitting behind him.
2. Third Base (F)
The combination of Cody Ransom, Angel Berroa, and Alex Rodriguez collected just one HR, nine RBI, .178 AVG, and .233 OBP in 25 games. Yankees third basemen were also leading the league in errors at the point of A-Rod's return. Ramiro Pena played admirably, but his individual moments cannot overcome the calamity of New York's "frigid corner."
The Infirmary
1. Jorge Posada (A-)
Before an injury placed him on the DL, Posada was also in the running for valedictorian. His .312 AVG, five HR, 20 RBI, and .402 OBP in just 23 games were numbers fit for an All-Star starter at the position. He reenergized the lineup and had proven that a surgically repaired throwing shoulder would not at all affect his production in the batter's box.
2. Xavier Nady (Incomplete)
Nady played just seven games before injuring his throwing arm, hitting .286 with two RBI. He is very important to New York's second half success, but he has not played enough to earn a grading evaluation.
3. Jose Molina (B)
Molina is potentially the best backup catcher in all of baseball. His defensive prowess is unquestioned, and he quickly became the biggest luxury on New York's bench.
Not known for his offense, Molina's .273 AVG is more than serviceable considering his expectations. Unfortunately, a recent quad injury has left the Yankees scrambling for a worthy and dependable backstop.
Cumulative GPA
After calculating all of these grades on an even scale for each grade, the Yankees offense possesses a 2.74 GPA. This causes them to fall somewhere between a C+ and B- in terms of an overall grading evaluation.
Considering the consistent pitching struggles and strength of schedule, New York is going to have to hit closer to an A- in order to earn itself a playoff spot come October.
Also seen at: Heartbeat of the Bronx