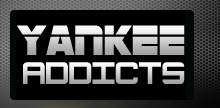 June 11, 2009 · Greg Cohen · Jump to comments
Article Source: Bleacher Report - New York Yankees
(AP Photo/Michael Dwyer)
| | | | | | | | | | | | | | |
| --- | --- | --- | --- | --- | --- | --- | --- | --- | --- | --- | --- | --- | --- |
| | 1 | 2 | 3 | 4 | 5 | 6 | 7 | 8 | 9 | | R | H | E |
| NYY | 0 | 0 | 0 | 0 | 0 | 0 | 3 | 0 | 0 | | 3 | 10 | 1 |
| BOS | 0 | 1 | 0 | 0 | 0 | 0 | 0 | 3 | X | | 4 | 8 | 0 |

Winning pitcher: Takashi Saito (1-0)
Losing pitcher: CC Sabathia (5-4)
SV: Jonathan Papelbon (16)
So which loss to the Sox was worse, the game Mo blew on Apr. 24 or tonight's disaster? I'm going with tonight, simply because tonight made it eight losses in a row against Boston.
It had all the makings of a great win. CC Sabathia pitched great for the first seven innings, allowing just one run on a solo homer off the day of a rejuvenated (thanks to Yankee pitching) David Ortiz. And, even though they made Brad Penny look like an all-star tonight, the Yankees' bats managed to put three runs on the board against the Sox pen and gave their ace a 3-1 lead.
The Yankees got their runs in the top of the seventh. Melky Cabrera led off with a single, Francisco Cervelli then lined a double down the left field line and with Cabrera running on the pitch was able to score all the way from first to tie the game at one. Later in the inning Alex Rodriguez line two-run double off the wall in center and the Yanks led 3-1. It looked like a huge hit for A-Rod, and a game winner.
That all changed in the bottom of the eighth.
After allowing the homer to Ortiz in second, Sabathia cruised through the next five innings and looked like he was on his way to giving the Yankees exactly the kind of start they needed, but he ran out of gas in the eighth and things quickly fell apart. Nick Green led off with a single, and then Dustin Pedroia had the at-bat of the game.
After fouling off six pitches and working the count to 3-and-2, he drew a much deserved walk on the tenth pitch of the at-bat. Not only did it put two on with nobody out, but it pretty much drained Sabathia of whatever energy he had left. The next batter was J.D. Drew and he lined an RBI single to cut the Yanks' lead to 3-2. That was it for CC.
Alfredo Aceves came into a very difficult situation with runners on first and second and nobody out in a one run game with Kevin Youkilis and Jason Bay coming to bat. Two singles later the Sox had tied the game and the bases were loaded. Mike Lowell then hit a sac fly to shallow center to give the Sox a 4-3 lead. With a good throw Brett Gardner probably could have gotten Drew at home, but he threw the ball into the ground and never had a chance.
Phil Coke then came in to replace Aceves and after walking Ortiz on four pitches he got Jason Varitek to pop out to Teixeira, and then struck out Rocco Baldelli to end the inning. It was a pretty impressive outing from Coke.
Jonathan Papelbon made quick work of the Yanks in the ninth, retiring them 1-2-3 to finish off the game and the sweep.
In the end, this game, like the two before it, came down to two main things: starting pitching and hitting with RISP.
Brad Penny pitched very well for the Sox tonight, but there's no way he should have held the Yankees scoreless over six. They had runners on base in almost every inning; they just once again failed to get the big hit.
After going 2-for-17 with RISP in the first two games they followed it up with a 1-for-11 in game three. That's 3-for-28 for the series, and that's pathetic. I have to believe that they were pressing; there were many meatballs that they fouled back or missed completely, pitches they were crushing a week ago, you know, against teams not named "the Red Sox."
Then they finally get the hit they needed. In fact, they got two: Cervelli's game-tying RBI double and A-Rod's two-run double that gave them the lead, but that's when the starting pitching failed them. After A.J. Burnett and Chien-Ming Wang lasted just 2.2 innings a piece over the first two games CC gave the Yankees a much better effort.
He pitched great for first seven innings allowing just one run on four hits. And if Brian Bruney was healthy he probably would have been done after those seven. But Bruney isn't here and CC's job tonight was to hand the ball to Rivera. He failed.
I don't blame CC that much because he really pitched a hell of a game, but still, in the end he gave up four runs in seven innings and that's not the results we were hoping for.
Oh, I almost forgot Nick Swisher's terrible base running. What is going through this dude's skull? For the second day in a row, he inexplicably gets doubled off to end an inning. Today the brainfart came in the bottom of the second. With one out the Yanks had Hideki Matsui on first and Swisher on second and Cervelli was batting. He hit a fly ball to the warning track in left and for some reason Swisher was three-fourths of the way to third. Bay caught the ball and threw it to Green, who threw to Pedroia to complete the double play.
Even if Swisher thought it was going to hit the monster he had, there was no need to get that far off the base. Like the play in Wednesday's game, it was completely stupid and inexcusable. You can't make those kind of mistakes in one-run games against your rival, because they usually come back to haunt you.
Now the Yankees must move on, there is nothing else they can do. Losing eight in a row to the Red Sox sucks. But now they begin a three-game series against another rival, the New York Mets.
They also find themselves just two games behind the Red Sox for first place in the division with 100 games to go, so this team is far from being in trouble. Put this ugly series in their rear view mirror and get back to doing all the good things they were doing before embarrassing themselves in Boston.


AB
R
H
RBI
BB
SO
LOB
AVG
Jeter, SS
5
0
2
0
0
0
1
.298
Damon, LF
4
1
0
0
1
1
2
.286
Teixeira, 1B
5
0
0
0
0
0
4
.289
Rodriguez, A, 3B
3
0
1
2
0
1
1
.234
Cano, 2B
4
0
1
0
0
0
3
.293
Swisher, RF
4
0
1
0
0
2
1
.255
Gardner, CF
0
0
0
0
0
0
0
.267
Matsui, DH
3
0
2
0
1
1
1
.260
Cabrera, M, CF-RF
4
1
2
0
0
1
3
.298
Cervelli, C
4
1
1
1
0
1
5
.269
Totals
36
3
10
3
2
7
21
BATTING
2B: Swisher (14, Penny), Cervelli (2, Delcarmen), Rodriguez, A (5, Delcarmen).
TB: Jeter 2; Rodriguez, A 2; Cano; Swisher 2; Matsui 2; Cabrera, M 2; Cervelli 2.
RBI: Cervelli (5), Rodriguez, A 2 (25).
2-out RBI: Rodriguez, A 2.
Runners left in scoring position, 2 out: Cano 3; Cervelli; Matsui.
Team RISP: 1-for-11.
Team LOB: 9.

BASERUNNING
SB: Jeter (12, 2nd base off Penny/Varitek), Rodriguez, A (2, 2nd base off Penny/Varitek).

FIELDING
E: Damon (3, fielding).
DP: (Jeter-Cano-Teixeira).
| | | | | | | | | |
| --- | --- | --- | --- | --- | --- | --- | --- | --- |
| | IP | H | R | ER | BB | SO | HR | ERA |
| Sabathia (L, 5-4) | 7.0 | 6 | 4 | 4 | 2 | 6 | 1 | 3.68 |
| Aceves, A (BS, 1) | 0.1 | 2 | 0 | 0 | 0 | 0 | 0 | 2.55 |
| Coke | 0.2 | 0 | 0 | 0 | 1 | 1 | 0 | 4.01 |
RED SOX STATS

Player of the Game: Brad Penny (6 IP, 6 H, 0 R, 1 BB, 5 K)
Honorable Mention: David Ortiz (2-for-3, HR, BB, R)
Goat of the GAme: Nick Swisher for three days worth of boneheaded plays.
Tomorrow's Game
Yankees vs. Mets
Game Time: 7:05 p.m. | TV/Radio: YES, WCBS 880
Joba Chamberlain (3-1, 3.79 ERA) vs. Livan Hernandez (5-1, 3.88 ERA)