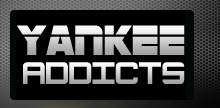 December 10, 2012 · Alan Horvath · Jump to comments
Article Source: Bleacher Report - New York Yankees
With the 2012 holiday shopping season in full swing, the Yankees have a fantastic opportunity to play Santa Claus this year, full beard, boots and all. In the spirit of giving, all they have to do is reward their fans by signing Josh Hamilton.
After all, it's Christmas time. What fan wants to hear their team complain about salary caps, cutting corners and being tight with money now? This time of year, when most everyone else is emptying their wallets bringing holiday cheer, the Yankees have a chance to follow suit by playing Santa on steroids.
All they have to do is sign Josh Hamilton by Christmas.
Imagine the delight, the pure unrestrained gushing joy, of Yankee fans everywhere finding Hamilton under the tree this year. He would be that one giant gift that is remembered not only for a season, but for an entire lifetime.
The powerful, sweet lefty swing, the long home-runs that threaten to leave the stadium, the .304 lifetime batting average, the rewarding smile—Hamilton can do it all.
To put it mildly, Hamilton would be the gift that keeps on giving. There is no other player on the market who comes close to doing the good that Hamilton could do for the Yankees. By batting third for the Yankees, their entire lineup jumps off the card.
With Derek Jeter, Robinson Cano and Mark Teixeira already in place, the addition of Hamilton instantly stacks the lineup. If a healthy Alex Rodriguez returns in June, there would be no place for opposing pitchers to hide any longer. Base runners from top to bottom all become threats to score.
There will be those who question Hamilton's checkered past and the challenges it might present by bringing him to New York. To that I ask, since when has that been a deterrent (for the Yankees) when it came to signing a potentially productive player?
Dwight Gooden, Steve Howe, Darryl Strawberry and Pascual Perez immediately come to mind. Strawberry went on to become a solid contributor, as did Gooden. Howe became a reliable reliever for the Yankees as well.
Although there is a greater monetary risk with Hamilton, the rewards can be through the roof. The Yankees need him now, and the fans are getting restless too.
Please, Santa. Bring us Josh Hamilton this year. That is all we Yankee fans ask, for now.
Read more New York Yankees news on BleacherReport.com