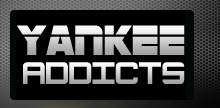 October 20, 2010 · Leslie Monteiro · Jump to comments
Article Source: Bleacher Report - New York Yankees
When the Yankees signed Mark Teixeira couple of years ago in the offseason, they thought they were going to get a guy who could be Mr. October. They thought they would have a leader.
But they've gotten nothing so far out of their petulant star. His injury served as a symbol of what has gone wrong for him in October.
The only good thing Teixeira has done is provide protection for Alex Rodriguez and play good defense. That's all well and good, but for the money he is being paid, he should be doing better.
Teixeira has been known to be a streaky hitter. That can be a good thing or a bad thing. We all know what he can do when he gets hot. It showed in the summer of last year, but we also saw what he can do when he is struggling, and it isn't pretty.
In his two years of postseason play, Tex hasn't been good. He strikes out often or he can't get the runners home when they are in scoring position.
He gives the impression he expects to fail. His frustration speaks no bounds. It's clear he does not have the answers.
The book is out on him. Throw him a diet of strikes, and he will swing at every one of them. His approach gets him off-balance and confused to the point that he does not know what he is doing.
The only time Teixeira does well is when he faces pitchers who throw soft. He only has success in the postseason when he goes up against the Twins, who feature pitchers that do not throw hard. Other than that, he does not do well against elite pitchers.
The Yankees can't be happy about this. Teixeira can't be either. Who knows if he can't figure it out?
Last year, he received no criticism because the Yankees brought home a championship. Everyone left him alone. Stories focused more on Rodriguez's success.
This year, Teixeira can't hide from it, and neither should he. He is the reason why the Yankees are behind in the ALCS, and his idiotic move of sliding into first should not earn him any favors with the club.
Who knows now how he is going to play next year? Hamstring injuries can be a funny thing. It affects his ability to hit the ball or throw the ball. It's bad enough he's streaky as it is, but if that hamstring hinders his ability to hit or field, then that contract could be an albatross.
But Teixeira can't do anything about this year. His idiocy cost him any chance of that. Wouldn't it be funny if the Yankees somehow get to the World Series and win a championship without Teixeira? Talk about a delicious situation.
Don't laugh. Despite the deficit the Yankees are in, they are capable of winning the final two games at The Ballpark at Arlington.
Sure, the Rangers did their job by winning two out of three at Yankee Stadium, but anytime a team gives the Yankees a chance, they have a new life. The team has the offense and the pitching to get by without Teixeira. After all, the Yankees won last year in spite of Teixeira.
It would have to hurt Tex's ego if the Yankees win it all without him. He can talk all he wants about how his teammates are so good that they can survive, but this is not what he envisioned when he signed that contract in December of 2008.
What he envisioned was getting endorsements and fame. It's one of the reasons why he signed with the Yankees. He thought he would get all the special treatment that Reggie Jackson received when he did his thing for the Yankees.
It hasn't happened. Teixeira rarely gets mentioned by fans or media. He hasn't been in commercials at all. It's not like his jerseys get sold out here.
When people think of the Yankees, they think of Mariano Rivera, Derek Jeter, CC Sabathia, Andy Pettitte and Rodriguez. Rarely does a person hears Tex's name. Sure, Michael Kay has a fetish for the smug Yankee, but then again, two surly personalities probably enjoy each other's company.
Jason Giambi received more criticism than Teixeira during his time as a Yankee, and guess what? He hasn't even played that badly in the postseason. He did okay.
Giambi's only crime was using steroids.
At some point, Teixeira should be held accountable for his performance. When a player signs a contract like that, expectations should be followed. In this market, no one gets off easy.
Just because Teixeira gives nice comments to the writers, it doesn't mean he should get a free ride from them.
They need him to come up big at least once. Game 2 of the ALDS last year and this year was the only good thing he did, but then again, anyone can hit against these soft Twinkies.
His job is to hit against great teams. So far, he has failed to deliver.
At some point, he has to figure it out. He can't be inconsistent all the time. He needs to get off to a good start next year, and go from there.
He certainly has to start playing much better in October next year.
If it means seeing a psychologist or talking to a mental skills coach, he should definitely do it. He can't be stubborn about having all the answers. He clearly doesn't.
It's time for him to figure that out, and see what he can do better next year. He can't get away with stealing money from the Yankees.
Read more New York Yankees news on BleacherReport.com