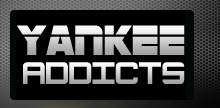 February 25, 2013 · Sam Stryker · Jump to comments
Article Source: Bleacher Report - New York Yankees
On paper, the fractured right forearm New York Yankees outfielder Curtis Granderson suffered in his first real at-bat of the season would seemingly spell doom for the Bronx Bombers.
The injury he suffered Sunday against the Toronto Blue Jays puts Granderson out of action for the next 10 weeks, and the Yankees already have to deal with third baseman Alex Rodriguez's hip injury, not to mention the offseason departure of Nick Swisher.
Along with second baseman Robinson Cano, Granderson is the muscle behind the Bronx Bombers. An injury to the outfielder would seem catastrophic.
But if Granderson was to get injured, now was the time to do it. Baseball is barely into spring training, and ESPN's Wallace Matthews plots the outfielder's return to be sometime in early May—just a few weeks into the season.
That gives the Yankees plenty of time to adapt to a lineup without Granderson, which should put some pressure on newcomers Kevin Youkilis and Travis Hafner to adjust quickly to life in pinstripes.
The Yankees had to realize this was going to be a hectic spring training for the team, what with the revolving door of players and shortstop and captain Derek Jeter returning from an ankle injury.
Granderson's injury doesn't necessarily make things any easier, but it should allow for the Yankees to focus on other tasks at hand.
And Granderson will be back before the Yankees truly miss him. When the outfielder returns, all the better. Though he only batted .232 last season, he had some pop, adding 43 home runs and 106 RBI, leading the Yankees in both categories.
If there is one drawback to Granderson's injury, it is that the Yankees will not be able to tinker with their outfield lineup as planned. Matthews noted that in the team's "emphasis this spring…on pitching and defense," New York planned on trying Brett Gardner in center field and Granderson in left field in spring training.
But with Granderson out through early May, the Yankees will not have that opportunity to experiment. The outfielder's absence in a way will be missed more in the field than at the plate.
All statistics via ESPN.
Read more New York Yankees news on BleacherReport.com