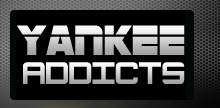 June 15, 2009 · Colin Linneweber · Jump to comments
Article Source: Bleacher Report - New York Yankees
The New York Yankees destroyed the New York Metropolitans 15-0 Sunday in the Bronx to win two out of the three games played during this weekend's first installment of the 2009 Subway Series.
The lopsided victory was the biggest blowout between the cross-town rivals since the inception of interleague league play in 1997 and it was the Bombers largest margin of victory since they defeated the Tampa Bay Rays 21-4 in 2007.
Yankees right-hander A.J. Burnett (5-3, 4.46 ERA) struck-out eight Mets batters and allowed only four singles in seven innings as the Bombers embarrassed their Queens counterpart.
"I felt in sync the whole game. I was free out there," said Burnett, 32. "I was just letting it go."
On the flipside, Mets Ace and two-time Cy Young Award winner Johan Santana (8-4, 3.29 ERA) struggled mightily as he yielded nine earned runs in three horrid innings.
"Today was a terrible day and that's about it," Santana, 30, conceded. '"I didn't locate my fastball today the way it's supposed to be located.'"
The Yanks sterling performance yesterday improved their overall record to 36-27 and it came less than one week after they were again massacred by the Red Sox (38-25) in Boston.
The Red Sox, who have prevailed in all eight of the meetings with their arch rivals this season, are currently two games ahead of the Yankees for first place in the American League East.
Perplexingly, had the Yankees not opposed the Red Sox to date, New York would have a .655 winning percentage (36-19), in comparison to Boston's .545 winning percentage (30-25), and they would hold a commanding 6-game lead in their division.
The Red Sox shire supremacy in direct competition versus the Bombers is genuinely confusing.
Do the Red Sox simply match-up against the Yankees in such a convincing fashion that they can dominate their nemeses over a prolonged, eight-game stretch?
Has Boston developed a decided psychological advantage over New York that the Bombers cannot overcome?
Have the Red Sox merely faced the Yankees at convenient times that have benefited Boston?
The Yankees and the Red Sox are scheduled to play 10 more games against one another before the end of this season.
Perhaps the Bombers will ultimately capture the AL East crown and the Red Sox will miss the playoffs entirely.
However, such a scenario seems very unlikely at this juncture.
If the Yankees want to win their 27th championship this postseason, they had better identify the root of the Red Sox command in their rivalry.
Provided that the Yankees don't solve the riddle that is the Red Sox, expect the lights to go out early this October in "The City That Never Sleeps."
http://www.newyorkyankeesnews.com/colin815/weblog/7653/yankees-destroy-metswill-they-ever.html