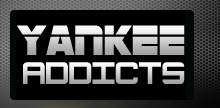 December 22, 2009 · Patrick Read · Jump to comments
Article Source: Bleacher Report - New York Yankees
Yankees Close 5 Man Deal Including Melky for Javier
On the heels of agreeing to terms last week with designated hitter, Nick Johnson, the Yankees have said they "are not done yet," and fans have been anxiously awaiting a counter to the Red Sox additions of John Lackey and Mike Cameron.  
Jorge Posada campaigned for another starter to be added to the rotation, so that either Joba Chamberlain or Phil Hughes could solidify the bullpen.
One can't argue with Posada's logic, given last year's midseason turn-around as Phil Hughes cured what was an abysmal first half performance by relievers. Many credit Hughes with saving the season.
Since Posada's push, the Yankee Universe has been abuzz about who could be their next acquisition for the rotation.
The Bleacher Report opined last week that the defending World Champion Yankees might consider a trade to Atlanta for Derek Lowe.
But the Yankees found a more appealing move involving the Braves. 
According to Fox Sport's Ken Rosenthall, the Yanks have closed a deal with Atlanta that lands them starting pitcher Javier Vazquez and relief pitcher Boone Logan.
In return, the Braves will get young outfielder Melky Cabrera, prospect (LH-Reliever) Mike Dunn, young flame-throwing prospect Arodys Vizcaino, plus $500,000 cash.  
Vazquez is just what the Yankees are looking for in a starter. He is 33 years old and in the last year of his contract worth $11.5 million. With the Yankees shedding Cabrera's estimated $2.5 million, they land a fourth starter for a total of $9 million, less than the market demand of between $10 & $12 million.
Vazquez has a career 4.14 ERA and is coming off a great year with Atlanta, having posted a 2.87 ERA. He came in fourth place in the National League Cy Young voting.
Javier is a workhorse and has pitched in more than 200 innings every year since 2000, except for one year when he pitched in 198 innings.
He is also one of the strike-out leaders of Major League Baseball ranked second this decade behind Randy Johnson.
The last time he pitched in the American League was in 2007 for the Chicago White Sox and he had a 4.67 ERA. The year prior he put up an impressive 3.97 ERA.
The one time he made the All-Star team was in 2004, when he pitched for the Yankees. After having a strong first half, he struggled to the finish and was dealt after the season to Arizona for Randy Johnson.
So, Yankee fans, bid farewell to a fan-favorite in Melky Cabrera.
In his five years with the Yankees, Cabrera averaged .269, had 36 home runs and drove in 228 runs.  The Braves will be impressed with his defense as he is quick on his feet and has a strong arm.
They also pick up a character for the clubhouse who players will find him easy to get along with.
Brett Gardner won the center field position over Cabrera last year (before breaking his thumb) and since then rumors were rampant about who the Yankees might trade for Melky. 
Now that question has been answered.
But other questions remain—do the Yankees replace Melky Cabrera in left field or stick with a platoon of Brett Gardner and recently acquired, Jamie Hoffmann?
Do they re-visit Johnny Damon, Jason Bay or Matt Holliday (all Type-A's) or go after a Type-B sort like Mark DeRosa or Jermaine Dye?
Read more New York Yankees news on BleacherReport.com