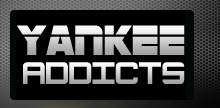 December 16, 2009 · Patrick Read · Jump to comments
Article Source: Bleacher Report - New York Yankees
…And Stay Within Last Years Budget.
Washington DC
By Patrick Read
With news swirling around about Hideki Matsui heading to the LA Angels and the Yankees reportedly sitting tight for now, another ring bearer is now eying the free-market.
Johnny Damon has said to the NY Post that he is expanding his market and looking elsewhere.
"I am going to start looking around. Teams are getting better, and there are (other) teams interested. I can't wait forever and I am sure [the Yankees] are trying to figure things out. I have to be ready."
Reportedly, Damon wants three (plus) years and up to $13 million per year—which is what Johnny made four years ago—when he was supposed to be an everyday player averaging about 150 games per year. Since then, time has flown by and Damon has been plagued by needling injuries.
In the last three years, Damon has played in 141, 143 and 143 games and those numbers are sure to shrink with age.
The question : Is a DH worth $13 million per year, for 3 or 4 years? He is no longer an everyday player. And in typical Scott Boras fashion, he is now over-reaching.
Considering that the Yankees may free up $26 million with Damon and Matsui gone, there is room for big free-market moves.
The Yankees could trade Nick Swisher, shedding $7.5 million from payroll, for the reliable arm of Derek Lowe (and a cash consideration, $3 million). This move would complete their rotation for 2010 and only add about $4.5 million total. Lowe has pitched in 30 games or more for the last eight years while typically being under a 4 ERA.
According to reports, contender Ben Sheets is seeking $12 million and was injured in 2008, missing all of 2009.
A Lowe trade would give Atlanta an offensive power-hitter, who had 29 homers last year in the American League East and is as versatile in the field as he is at the plate. Swisher can play right field, left field or first base and is scheduled to make a total of $15 million for the next two seasons—what Lowe would make in one season—with a club option in 2012 for $10.5 million.
The Yankees would then be free to sign the younger, more durable offensive juggernaut, Matt Holliday. Reading other reports, some say that the Yankees are not interested in a big left field contract.
Considering the Yankees said the same exact thing about Mark Teixeira this time last year, those reports are but fire kindling.
In 2009, Holliday hit .313 with 24 home runs while contender Jason Bay hit .267 with 36 homers. Holliday edged him out in on-base percentage, .394 to Bays .384. In 2008, Holliday hit .321 with 25 homer runs and had an .409 OBP; while Bay hit .286 with 31 homers and had an .373 OBP. In 2007, Holliday hit .340 with 36 home runs; while Bay only hit .247 with 21 home runs.
The key is Holliday's age. At 29 years old and in his prime with Curtis Granderson, 28, in center field and Melky Cabrera, 25, in right field; Holliday would solve the Yankees outfield woes once and for all. And the Yankees would still have the speedy lefty, Brett Gardner, on the bench to sub-in when necessary (when a lefty is pitching, the Yanks may want to sub Granderson).
In the end, Lowe and Holliday would cost less than what it was for the Yankees to employ Matsui and Damon last year.
The Yanks still have money left to spend too. Xavier Nady made $6.5 million last year. Wang made $5 million, Jose Molina made $2 million, Brian Bruney made $1 million, and Phil Coke made $500K totaling $15 million.
That total is enough to sign a proper, yet affordable DH. Vlad Guerrero's numbers are better than Matsui's. At first glance, the obvious down side would be that he bats right handed.
However, Vlad's strike zone is massive and he hits lefties better than he hits right-handed pitchers —.324 to .320 career—with an overall .321.
Or the Yankees could decide to try and add Aroldis Chapman (who was offered $15 million from the Red Sox for 3 years) which would give them one more arm for the bullpen.
Some in the blogosphere say that the Yankees should wait until next year when Carl Crawford is a free-agent, after all he is a lefty and young as well. However, he doesn't have the offense that Holliday has and the Yankees just signed speed in Granderson.
No one said they can't still sign Crawford next year, though someone would need to be traded in that scenario.
These type moves would complete the Yankees and help them compete in an ever competitive AL East. In baseball, teams generally field a team to win the World Series each year and try to improve in the offseason.
The Red Sox signed Lackey and now have six solid starters. They signed Cameron to replace Bay and are eyeing Beltre or possibly moving on Adrian Gonzalez (pending Mike Lowell going to Texas). With that said, the above keeps the Yankees within payroll and adds durability and power.
To summarize, the Yankees would lose about $41 million from last year's pay role, plus shed Swisher's $7.5 million for this year—totaling $48.5 million. They would obtain Lowe for $15 million (while the Braves absorb $3 million), sign Holliday for about $18 million, and Vlad for $4 to $5 million or Chapman for $6 to $7 million per year.
Johnny Damon seemingly had the Yankees over a barrel. They have already lost one lefty power-hitter in Matsui and are now threatened to lose another. But not so fast—Damon isn't a middle of the order kind of guy and has (presumably) already lost his lead-off spot to Granderson.
Both Holliday and Vlad are middle of the order types; and Guerrero has the reach to hit lefties.
The batting order might look a little like Boston's did last year—a bit right handed heavy. But considering Gardner would play when a left-handed pitcher starts and Vlad's average against lefties?
According to Casey Stengal, "Good hitting beats good pitching and vice versa."
And power equals…
A batting order of 1.) Granderson 2) Jeter 3.) Teixeira 4.) A-Rod 5.) Holliday 6.) Posada 7.) Guerrero 8.) Cano 9.) Cabrera.
And a pitching rotation of 1.) CC 2.) Burnett 3.) Pettitte 4.) Lowe 5.) Joba coupled with a bullpen consisting of Gaudin, Mitre, Gies, Aceves, (hopefully) Chapman, Hughes, Marte, and Mo.
Nuff said. Game on!
Read more New York Yankees news on BleacherReport.com