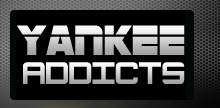 December 18, 2009 · Doug Rush · Jump to comments
Article Source: Bleacher Report - New York Yankees
Tomorrow, the Yankees will finalize a one year, $5.5 million deal with new designated hitter Nick Johnson.
The addition of Johnson likely spells the end for Johnny Damon, who was going to be asked to play as part-time DH and part-time left fielder.
With Damon likely out of the picture now, there is still an opening in left field that needs to be filled.
With Curtis Granderson now their permanent center fielder, the Yankees could fill Damon's spot internally by moving Melky Cabrera over to left field.
Or, the Yankees could look to other options on the free agent market.
Sources have said the Yankees are not interested in Jason Bay, especially since he's looking for a deal upwards of six years and $15 million per season. Plus, down the road, many see Bay turning into a full-time designated hitter anyway, and not a left fielder.
Bay has a five-year offer from the Mets, and most feel like Bay will take that deal and play in Queens.
Then there is the other top left fielder on the market who has yet to be signed, Matt Holliday.
Holliday has been offered a deal from the Cardinals to return. The deal has been rumored to be anywhere from five-to-eight years, and for as much as $16 million per season. But Holliday has yet to accept the deal, and who knows if he will take the Cardinals offer—especially since Holliday's agent is Scott Boras, who likes to drag out negotiations as long as he can.
Some wonder if the Mets will jump in on the Holliday negotiations if Bay continues to stall his offer, but it could just be a tactic from the Mets to get Bay to accept his deal.
But the Yankees need to figure out their left field situation, and more importantly, figure out where they are going to replace the power lost with the departures of Damon and Hideki Matsui.
In 2009, with the A's and Cardinals, Holliday hit .313 with 24 home runs, and 109 RBI, which means Holliday is a good hitter even away from his former home, the number-inflating Coors Field in Colorado.
Many wondered if Holliday would have any power or hitting ability away from Coors, and his second half with St. Louis in which he hit .353 showed he is still a great hitter.
The Yankees have not been major factors in the Holliday negotiations, and have also been said to want to reduce their payroll, which was somewhere around $210 million last season.
But in 2008, the Yankees were never really mentioned in the Mark Teixeira sweepstakes, but Brian Cashman landed the first basemen, another Boras client, on Dec. 23.
Cashman is very good at being very sly and sneaky with his movements and negotiations, and with his team likely needing to fill a gap, Holliday could fit in.
But would the Yankees meet the price?
Holliday has been reported to have said he would play in New York. If the Yankees aren't satisfied with Melky as their left fielder, they may look toward Holliday, who is a much better hitter in addition to being younger than both Damon and Bay—Holliday will turn 30 next month.
Even the Cardinals' experts aren't 100 percent sure that Holliday is coming back, and think he is still weighing all of his options, maybe waiting for the right deal, or a better deal, to come along.
It's hard to see Holliday passing up the St. Louis offer and playing alongside Albert Pujols for the next couple of years, but then again, Holliday is still out on the open market.
With Holliday on the open market, the Yankees can still be in the mix for him. I'm sure Holliday would be interested in playing for the reigning World Series Champions.
But the bigger question is, would the Yankees offer him the money and years to play in the Bronx?
That's what we all want to know, and eventually, will find out.
Read more New York Yankees news on BleacherReport.com