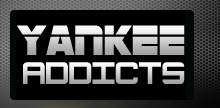 April 13, 2010 · Christopher Woodley · Jump to comments
Article Source: Bleacher Report - New York Yankees
The Yankees celebrated their 2009 World Series victory by receiving their championship rings. Then, New York went out and earned their third straight win with a 7-5 victory over the Los Angeles Angels of Anaheim Tuesday afternoon at Yankee Stadium. It was the 12th win in the last 13 Yankee home openers dating back to 1998.
Prior to the game, the Yankees received their World Series rings after claiming their 27th World Series title last November. One of the biggest ovations was for World Series MVP Hideki Matsui, now with the Angels. After receiving his ring, the Yankees embraced their former teammate. Matsui was 0-5 with a strikeout on the afternoon.
With New York leading 5-1 in the eighth inning, Jorge Posada drove in a run with an RBI double, and Curtis Granderson followed with an RBI single. The two insurance runs proved to be important as the Angels refused to go away quietly. The first three batters singled to load the bases in the top of the ninth. After Erick Aybar struck out, former Yankee Bobby Abreu cleared the bases with his ninth career grand slam off of reliever David Robertson. With New York's lead cut to two, Mariano Rivera entered the game and retired the final two batters for his third save of the season.
Andy Pettitte (1-0) was effective for the second consecutive start this season. He held the Angels scoreless over six innings, allowing only five hits while striking out six and walking three. Pettitte improved to 4-0 all-time in Yankee home openers. Ervin Santana (0-2) suffered the loss after allowing five runs on eight hits over 5 2-3 innings.
New York opened the scoring in the bottom of the first inning on Nick Johnson's first home run of the season. Derek Jeter brought in the next two runs on a solo home run to lead off the third and an RBI infield single in the fourth.
Meanwhile, Pettitte pitched his way out of a fifth inning jam as Los Angeles was unable to score with runners at first and second and one out. Pettitte faced the same situation in the sixth but induced Howie Kendrick to hit into an inning-ending double play. New York added two runs in the bottom half of the inning on a two-run single by Alex Rodriguez that went off the glove of Angels third baseman Brandon Wood.
New York and Los Angeles will continue their three-game series Wednesday afternoon at Yankee Stadium. Joel Pineiro (0-1, 4.50) will start for the Angels while the Yankees will counter with Javier Vazquez (0-1, 12.71). First pitch is set for 1:05 p.m. ET.
Read more New York Yankees news on BleacherReport.com