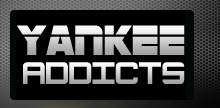 June 5, 2009 · Nick Condit · Jump to comments
Article Source: Bleacher Report - New York Yankees
Even though a preliminary decision has been made by MLB to suspend Yankees pitcher A.J. Burnett, it's almost guaranteed he doesn't regret returning fire against Vicente Padilla and the Texas Rangers.
Burnett probably shouldn't have fired that pitch so close to the head of Rangers' Nelson Cruz three nights ago, but he certainly sent a message: don't touch my teammates.
Not every pitcher is willing to retaliate after a hit-batsmen, but Burnett didn't hesitate, going straight for the tower buzz. He will appeal his six-game suspension and probably will see it shortened a bit.
But that's neither here nor there. Burnett was going to make the statement to the Rangers, and to the rest of the Major Leagues, that he doesn't mess around, regardless of the consequences.
It's that kind of loyal, hard-nosed team leadership that the Yankees haven't received from their recent big-contract signees (see Jason Giambi, Carl Pavano, Gary Sheffield, and of course Alex Rodriguez).
The Newcomers
A.J.
Burnett leads the team in strikeouts and, besides his recent teammate-back up, he is always one of the first guys on the field to celebrate with a player that comes up with a walk-off hit.
And we've all seen him ruthlessly ambush game-ball players with a face full of whip cream during post-game interviews, something Yankee fans haven't seen much of in recent years.
C.C.
Besides leading the starting rotation in innings pitched, ERA, wins, hits per inning and walks per inning, C.C. Sabathia did something we also haven't seen in a while; he took his team out to a different kind of ball game. Picking up the tab, Sabathia brought his new buddies along to LeBron's playoff show in Cleveland.
More of soft-spoken guy, he can be seen laughing in the dug out with Andy Pettitte any time Joba Chamberlain's 230 pound body reaches full extension to make a catch. Joba joked back, poking fun at Sabathia's less athletic frame.
Tex
Mark Teixeira leads the Yankees in doubles, home runs, and RBI (the next closest is 14 RBI shy). And he's not afraid to speak his mind. He certainly voiced his displeasure toward Vicente Padilla.
But unlike some players that were hit twice by the same pitcher, Tex didn't charge Padilla and got his vengeance on the base pads with an impressive slide that broke up a double play, keeping the inning alive and allowing the Yankees to blow open the game wide open.
The following game, Teixeira gets a day off and the Yankees lose 4-2. Yesterday, Tex is inserted back in the line-up, collects three RBI, and the Yanks' win by two.
The Same old Veterans
D.J.
Have to start with the captain. Never a complainer, never a distraction, simply all business. Derek Jeter will never stop hustling down the line, throwing off-balance strikes to first base, or picking up clutch hits.
He's tied for the team lead in hits, second in batting average, and continues to steal bases, as he is only one behind Brett Gardner for the team lead in steals.
With hardware from being a four-time World Series champion and World Series MVP in his collection, Jeter leads by two words: example and experience.
Mo
The best closer of all time is all you really need to know about Mariano Rivera. He's the undisputed leader of the bullpen and pretty much the pitching staff as a whole.
He's a pitcher, a teacher, a teammate, and an all-star. His home-runs allowed are way up this season, but whose aren't at the new Yankee Stadium? When his cutter is workin', he's still lights out.
Jorge
If any player in the Majors is a candidate to be a player/coach, it would be Jorge Posada. Like Rivera and Jeter, he also has four World Series titles under his belt and was Manager Joe Girardi's protege' before surpassing him in ability.
Like many catchers, Posada is the point guard out there in the field but he does it better than most. And though losing some luster, he still gets it done with the bat as well.
Though missing games due to injury, he still has more at-bats than A-Rod, and leads the team in batting average and slugging percentage.
Pettitte
Andy Pettitte also leads by example and knows what it's like to win in New York. He showed the baseball world the right way to deal with a steroid bust and provided a blue-print for A-Rod: 'fess up.
The graying seasoned veteran never backs down and battles through injuries and obstacles with a proud demeanor. He's tied for the team lead in wins.
Clubhouse Characters
Johnny and Swish
Two oddball-type players in Johnny Damon and Nick Swisher are always all smiles. You have to check out their punk-rock hand shake of sorts when one makes a good play. Swisher's been a positive edition to the locker room in keeping it loose, and how can one get mad at Johnny Damon?
Besides Teixeira, Damon and Swisher are the only other two players with double-digit home runs on the year. Damon is hitting just below .300 and is tied for the team lead in triples.
Robby and Melky
Robinson Cano and Melky Cabrera can also flash a smile with Cano's reaching from ear-to-ear. These two Dominicans represent their country well in their version of the "bash brothers."
Cabrera has four walk-off hits this year already, including his two-run shot yesterday that saved Chien Ming-Wang from another loss. They are both currently hitting above .300, with Cano tied for the team lead in hits, and one off Tex's leading pace in doubles.
Is this the year for No. 27?
Who knows. But talent for New York has always been there to win the World Series every year. The pitching staff is coming around and the lineup has been fearsome since Alex Rodriguez a.k.a. "The Distraction" came back from injury.
Clubhouse chemistry is an element of the game that could be the deciding factor in New York's championship hopes.
In 2009, for the first-place Yankees, so far so good.