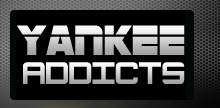 November 1, 2011 · Thomas Buckingham · Jump to comments
Article Source: Bleacher Report - New York Yankees
According to Twitter and other reliable sources, the Yankees did not pick up Andrew Brackman's 2012 option. He was drafted by the Yankees in the first round of the 2007 draft out of NC State, where the pitcher excelled in both baseball and basketball. He was very highly rated on the mound, and fell to the Yankees who held the 30th overall pick because the tall right-hander needed Tommy John Surgery which would cost him all of the 2007 and 2008 season.
Even with the injury his agent, Scott Boras, worked his magic and landed Brackman a major league contract with a guaranteed $4.5 million for four years, including a $3.55 million signing bonus. The Yankees also held a club option for the 2011, 2012 and 2013 seasons. After picking the option up last season, the Yankees hoped Brackman could make an impact out of the bullpen at some point during the season. Control problems, which the 6'11" giant consistently suffered from after joining the Yankees' organization, continued to impede on his progress. Brackman walked 75 batters while striking out 75 in his first Triple-A season this past year.
He would have cost the Yankees close to $1M next year.
Read more New York Yankees news on BleacherReport.com