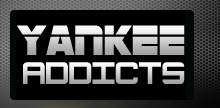 February 6, 2013 · Will Carroll · Jump to comments
Article Source: Bleacher Report - New York Yankees
Although Derek Jeter is coming off a significant injury, he should be healthy enough to come back strong in 2013. He has been cleared to resume baseball activities, and the biggest question might be how much time he sees at shortstop this spring and during the season.
Jeter fractured his ankle last season on a play to his left. He could not get up and required assistance leaving the field.
Jeter will be tested early in spring training if he plays shortstop, where he will need to have quick reactions to either side. He will also likely have some issues with his first-step quickness coming out of the batter's box. He is a right-handed batter and not known as a power hitter, so the left ankle should not cost him much in the way of power. This is occasionally seen with the back leg for hitters, preventing them from pushing off with normal strength and explosion.
Shortstop or DH?
The Yankees will be watching closely throughout the spring before letting Jeter back onto the field. They do have a good option playing him at least part-time at DH. Most observers believe that Jeter wants to play short and will push hard to be there, but that he will ultimately put the team over his ego if it is clear he would be better off as a DH.
Ken Davidoff, who covers the Yankees for Newsday, thinks this will be the big story of the spring: "It's natural to think that the injury will hurt his range, which already was a liability, but we know that it's fruitless to anticipate how Jeter will perform. He has defied expectations too often."
There are no perfect comparisons for Jeter's injury and position, especially if age is included as a significant factor. There are some players that were involved in traumas, such as Buster Posey, Stephen Drew and Tsuyoshi Shinjo. The rest of similar injuries (fractured tibia) tend to be pitchers who were hit by comebackers. What we saw with these players' recoveries indicates that Jeter is coming back at a normal pace.
Look for the Yankees' medical staff to be cautious with Jeter early in camp, spotting him in where they feel most comfortable based on his physical capabilities. The fact that he is already taking grounders and hitting in the cage shows just how hungry he is.
The biggest worry for many is that Jeter will have less quickness, reducing his range at shortstop. His defensive prowess has been a subject of debate for years. The key has always been that Jeter makes the routine plays as well as anyone, even adding in the occasional jumping throw or spectacular play. "When he gets to the ball, he makes the play," said an AL advance scout who could not speak on the record about an opposing player.
Expecting Good Things
Jeter's commitment has never been questioned and should help him make his comeback. Mark Feinsand of the New York Daily News has been covering Jeter for a decade and has seen this firsthand.
"I can't think of many players in that time that have a stronger work ethic than Jeter," Feinsand said. "As severe as the ankle injury was, I have no doubt he'll put in whatever work is necessary to get back on the field as quickly as possible."
Jeter had surgery in Charlotte with noted foot and ankle specialist Robert Anderson. The surgery, which fixated the ankle with several pins, was done to promote proper healing. Jeter immediately returned to Tampa and began workouts with both his own therapists and with Yankees medical personnel at their Tampa facility.
Assistant athletic trainer Mark Littlefield previously ran the rehab program at the Tampa facility before his promotion and was often referred to as the "secret weapon" of the Yankees. Littlefield, the brother of former Pirates GM Dave Littlefield, was instrumental in the Yankees' early signings of several pitchers coming off Tommy John surgery, which gave them an advantage with the predictable rehab process from that procedure. It is more than likely that Littlefield ran Jeter's rehab along with own staff.
Early projections have Jeter returning to his 2012 levels—15 homers and a .316 batting average. The Steamer projections (via Razzball), widely respected around the sabermetric community, see Jeter having a similar season. They see him putting up a similar batting average and showing a bit less speed, which is often expressed in both steals and doubles. Other projection systems available at this point seem to be in agreement. From a health standpoint, I have to agree with what these systems are projecting.
Derek Jeter ended last season in pain, both from a fractured ankle and from seeing his beloved Yankees swept out of the AL Championship Series. Jeter has not been idle this offseason, but the progress made with his ankle is very predictable. Expect him to be back at or near his previous high level in 2013.
All quotes unless otherwise noted were obtained first-hand by the author.
Will Carroll has been writing about sports injuries for 12 years. His work has appeared at SI.com, ESPN.com and Rotowire.
Read more New York Yankees news on BleacherReport.com