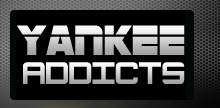 May 12, 2009 · Tomer Talmy · Jump to comments
Article Source: Bleacher Report - New York Yankees
The Yankees are riding a series win going into a series of rare importance early in the season. The Yankees have been very streaky since the start of the season and their most recent streak was one for the worse.
However, the Yankees managed to snatch two games in Baltimore behind the bat of Alex Rodriguez and the solid pitching by CC Sabathia and Joba Chamberlain. With Alex Rodriguez back in the lineup, the Yankees entered a new phase of the season and under that regime, they are 2-1.
In the series opener, A.J Burnett will take the mound against his former teammate and close friend, Roy Halladay. As always, Roy Halladay has been consistent this season and has gotten six wins for the surprising Jays.
On the other side of the rubber, Burnett has a 5.26 ERA entering the game and while he has looked phenomenal at times, he has struggled as of late. This should be a close matchup that will come down to which team can get to the bullpen of the opposition the earliest.
In the second game of the series at Rogers Centre, Andy Pettitte will take the mound against Scott Richmond. Pettitte has been rather consistent for the Yankees and has been the only pitcher to display that characteristic here in the early season. He will be matched-up with Scott Richmond, a rookie starter for the Jays who is 4-1 with a 3.29 ERA and has pitched well early in the season.
In the finale, we will see CC Sabathia coming off a shutout win in Baltimore match up with Brian Tallet, who has been mediocre for the Jays with a 4.95 ERA. It is crucial for Sabathia to rebound after a strong start and give the Yankees some innings in an attempt to give the worn out bullpen a bit of a rest.
Sabathia has looked sharp several times this season but he finally was able to piece it together in his last outing.
This is a crucial series for the Yankees from several different perspectives.
First, the Yankees would like to get over .500 and start playing some good baseball with Rodriguez back in the lineup.
Second, the Yankees would like to get closer to the division leading Blue Jays and certainly not dig themselves a hole early on like they have in past seasons.
Third, this is a division game for the Yankees and they have struggled with a 5-11 record within the AL East.
Going into tonight, the Yankees see three even pitching matchups with the third favoring them. If the hitting comes along and the starters give the Yankees some innings, they should be able to take a couple of games this week from the Jays.