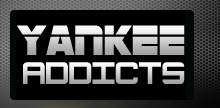 April 22, 2010 · Doug Rush · Jump to comments
Article Source: Bleacher Report - New York Yankees
On Wednesday night, Phil Hughes made his second start of the season against the Oakland A's and was looking for an even stronger performance from his first start.
Any stronger of a performance, and you would have thought that it was Ron Guidry and not Hughes pitching on the mound.
In case you fell asleep before or during the game and think I am exaggerating, I am not kidding because Hughes in fact, was that good Wednesday night.
After a first inning walk to Daric Barton, Hughes retired the next 20 batters in a row and got to 7 1/3 innings of no hits allowed before an eighth inning come back hit by Eric Chavez broke up the possible historic night.
In the 7 1/3 innings pitched, Hughes allowed the one hit, one run, walked two and struck out 10 batters to get his second win of the season.
His first win against the Angels was good. He struck out six batters in five innings but also walked five.
His second win was flat out dominant. He attacked the Oakland hitters all night with his fastball, mixed in his curveball, and even fooled some hitters with a cutter and a changeup in the process.
Fans might remember about three years ago in Hughes rookie season where in his second start against the Texas Rangers, he again flirted with a no-hitter, pitching 6 1/3 innings before sustaining an injury that took him out of the game and most of that 2007 season as well.
This was the second time a Yankees pitcher was close to throwing a no-hitter in 2010. CC Sabathia went 7 2/3 of no-hit baseball on April 10 against the Rays.
Coming into 2010, Hughes was looking to finally establish himself as a starter and break away from being a reliever or a minor league starter.
So far, Hughes is proving that he not only belongs in the major leagues, but as a starter. Many of you on here felt it should have been Joba Chamberlain to be the fifth starter and Hughes as the setup man.
Right now, Hughes belongs as the fifth starter and Joba belongs as the setup man because right now, both are doing well in each of those spots.
Speaking of Joba, when Hughes was finally pulled after throwing 101 pitches, Chamberlain entered the game and finished up the inning to get his fourth hold of the year and lowered his ERA to 2.16.
Mariano Rivera finished out the ninth inning for his sixth save of the season.
Oakland's starter Ben Sheets was decent, going six innings, allowing two runs on four hits, walking three and striking out four.
Sheets allowed back to back triples by Alex Rordriguez and Robinson Cano which put the Yankees up 1-0. Jorge Posada's ground out made it 2-0.
Brett Gardner's RBI single in the ninth made it 3-1, which is where the score stayed.
Overall, the Yankees got more solid starting pitching from their youngest member of the rotation in Hughes. He kept the Oakland offense swinging and missing all night and could never catch up to his power fastball.
If this is the type of pitching we will continue to see from Phil Hughes from now on, he could very well become one of the top young starters in baseball now.
This was also the second time in his young career that Hughes came close to a historic night, most pitchers only get that type of game once in their careers and already, Hughes has thrown two that came up short. Even if he came up short, what an amazing performance by Hughes.
The Yankees will finish this series this afternoon while already winning it, their fifth straight series win of 2010. The Yankees will send up their ace in CC Sabathia while Oakland will counter with Dallas Braden.
Read more New York Yankees news on BleacherReport.com