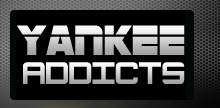 December 21, 2012 · Mike Rosenbaum · Jump to comments
Article Source: Bleacher Report - New York Yankees
The New York Yankees opted not to pursue free agent A.J. Pierzynski, who agreed to a one-year, $7.5 million deal with the Texas Rangers on Thursday.
So, unless they sign a veteran catcher—such as Miguel Olivo (bad idea) or Rod Barajas (worse idea)—the organization seems content using a combination of Austin Romine, Francisco Cervelli and Chris Stewart. Of those three players, the 24-year-old Romine is the most likely to receive significant playing time.
#yankees still cant get excited about pierzynski (looking to go with romine), so #rangers may be best bet. aj hit 27 bombs

— Jon Heyman (@JonHeymanCBS) December 19, 2012
Selected in the second round of the 2007 draft out of a California high school, Romine has been a highly regarded prospect since signing with the Yankees. Unfortunately, a majority of his minor-league career was spent in the shadow of Jesus Montero, which, in hindsight, doesn't really mean that much. Still, he's always represented a well-rounded, high-floor alternative to Montero.
Romine enjoyed a breakout season as a 20-year-old at High-A Tampa in 2009, as he batted .276/.322/.441 with 13 home runs and 11 stolen bases in 118 games. Since then, however, he's yet to match that production and has struggled to stay on the field.
After opening the 2011 season at Double-A Trenton, Romine made a quick stop at Triple-A before receiving a promotion to the major leagues in mid-September. Appearing in nine games for the Yankees down the stretch, he batted .158 (3-for-19) with five strikeouts and threw out two of six base stealers.
However, that was also the first season in which Romine showed signs of being injury-prone. He was held out of games for most of June following a concussion, and then missed a few more weeks in August with back pain.
Headed into spring training in 2012, Romine was a strong candidate for the team's backup-catcher position, though it was likely he'd also spend a portion of the season at Triple-A. But after experiencing worsening back pain during camp, it was revealed that the injury was disc-related, and he landed on the 60-day disabled list in late March.
Romine's season was essentially over before it even began, as he didn't return to action until late August and played in only 31 games. After the Yankees traded Jesus Montero during the offseason, Romine was poised for significant playing time last year. So, the timing of his injury couldn't have occurred during a more critical period in his development.
Hoping to make up for lost time, the Yankees sent him to the Arizona Fall League following the conclusion of the minor league season. Noticeably rusty, Romine batted .222/.342/.286 in 18 games with the Scottsdale Scorpions, though he was selected to participate in the AFL's Rising Stars Game in early November.
A right-handed hitter, Romine's loudest offensive tool is his raw power, which grades as above-average but has yet to show during games. With a high leg kick and deliberate load, the 24-year-old relies heavily on timing and is therefore a streaky hitter.
When he gets his front foot down early and lets his wrists work, Romine drives the ball from line to line with moderate power. When his timing is off, though, he features a long swing that results in too many whiffs.
Given his offensive skill set and track record, it's difficult to see him offering more than a .260 batting average and 10-12 home runs in a given season.
Although his bat has never blossomed as expected, Romine's steady development behind the plate has made him the Yankees' best defensive catching prospect—which, once again, doesn't say much.
At 6'1", 205 pounds, the 24-year-old is surprisingly agile for his size, though it will be interesting to see how the back injury has impacted his mobility. As he's gained more experience at higher levels, Romine's blocking and receiving skills have continued to improve as well.
Romine's above-average arm is his strongest defensive asset, though his footwork is still inconsistent and also the reason for his unimpressive 24-percent caught-stealing rate in five minor league seasons.
Of the three players in the mix for the position next season, Romine possesses the most upside—naturally; while Stewart is reliable for defense and defense only, Cervelli can reach base at a decent clip but owns a 20-percent caught-stealing rate.
The thought of Romine as the team's everyday catcher next season gives the Yankees something on which to dream. If I were forced to commit to a full season with only one of them, I'd also choose Romine.
But does that make him the man for the job in 2013?
I doubt it, but we'll see. Although Romine is the best internal option to fill the position, he's essentially doing so by default, which is slightly disconcerting. But I guess that's the price for not signing a free-agent catcher this offseason.
Read more New York Yankees news on BleacherReport.com