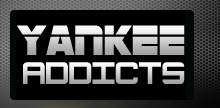 April 30, 2009 · Rob Abruzzese · Jump to comments
Article Source: Bleacher Report - New York Yankees
The Yankees took advantage of an unusually bad Angel bullpen to win the first game of the four-game series against the Angels 7-4. A.J. Burnett settled down after a bad start and was nearly matched by Angels starter Anthony Ortega through seven innings.
Quick 'Cap

Tied at one going into the second inning, Burnett allowed two more Angels to score, including a Mike Napoli home run. The Yankees climbed back with a run in the third and then two more in the fourth. Jeter singled to right to score Nick Swisher, and Ramiro Pena also came around to home when the ball zipped past Bobby Abreu's glove.
The Angels tied it back up at four when Chone Figgins singled in Erick Aybar. Burnett made it through seven complete innings thanks to a timely 5-4-3 double play in the seventh.
The Yanks broke the game open in the eighth when Justin Speier came on in relief. With one out and Robinson Cano on first, Jorge Posada hit a ground-rule double robbing him of a sure RBI.
The Angels then smartly (at the time) walked the red hot Swisher to face Melky Cabrera. Cabrera delivered on the first pitch he saw to score Cano. Then Pena, of all people, doubled down the right field line to score two more runs—his first two career RBI.
Mariano Rivera entered in the ninth looking to prove last night was a fluke. And he did. Torii Hunter led off with a hard single up the middle, but Rivera came back with two strikeouts—both on nasty cutters.
He got Howie Kendrick, the Yankee killer, to groundout back to himself to end the game. Full box score here.
Thoughts

It was a nice win for the Yankees that they were supposed to win. Even though the Angels are normally the Yanks' weakness, the Yanks had a big advantage in the pitching matchup – plus the Angels were playing without Vladimir Guerrero.
Offensive Notables

– Pena singled and scored as well as the two-RBI double in the eighth. I felt really good for Pena when he got his first two RBI. He should play third every game until A-Rod returns.
– Swisher was on base three more times in this game. He's now been on base nine times in his last fourteen trips to the plate.
Pitching Notables

– Phil Coke pitched a perfect eighth, and gave a huge fist pump when he struck out Bobby Abreu on a slider in the dirt.
Up Next

Friday night features a battle of two starters having good seasons so far. Jered Weaver (2-1, 2.45 ERA) faces Andy Pettitte (2-1, 2.96 ERA) at 7:05 p.m.
This article is also featured on lenNY's Yankees.