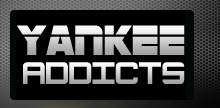 April 28, 2009 · Heartbeat Of The Bronx · Jump to comments
Article Source: Bleacher Report - New York Yankees
According to Mike Francesa of WFAN, the New York Yankees have made a bevy of adjustments to the 2009 ticket situation.
Many fans and media personnel had voiced concerns over the almost embarrassing levels of empty seats in the new Yankee Stadium.
The Yankees avoided more reasonable solutions, such as lowering all of the prices and issuing refunds to fans who have already purchased expensive seating.
Instead, it appears that fans who purchased season ticket packages will receive additional complimentary tickets for games. The number of tickets and games are dependent on a variety of parameters.
Some ticket prices have been reduced, including the sky suites (from $750 to $550) and the stadium's most expensive seats (from $2500 to $1250).
It may appear as though these changes will not affect the average to slightly above average fan, but you must dig deeper to see the possible benefit.
Season ticket holders receiving extra seating in the $325 areas, for example, will be given the opportunity to sell the tickets online. This will allow fans to purchase expensive seats for reduced prices, as they will not fetch prices close to their "face values."
If there was enough demand for $325 seating, the Yankees would have already sold them with ease in the stadium's inaugural season.
As a result, fans looking to recoup money for the extra tickets will be forced to sell them at more reasonable levels (say $125-175). This will again place expensive seating back into the general levels of the "House that Ruth Built."
The worst case scenario involves friends and family of the season ticket holders being given the extra seats as a gift. Though not benefiting the average fan whatsoever in this scenario, it will ensure many fewer empty seats in close proximity to the field.
The Yankees had multiple options that would have given a leg up in public relations, and I tend to disagree with the route that team executives have taken. However, if empty seats will become filled with the butts of Yankees fans in the months to come, it is already a step in the right direction.
We will see how this truly affects Yankee Stadium and its fans, but at least something is being done in a positive manner.