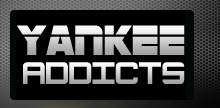 June 16, 2009 · Jersey · Jump to comments
Article Source: Bleacher Report - New York Yankees
Brian Bruney is back! But don't celebrate, or he'll get angry. And you won't like him when he's angry.
But the part I don't like about this story is that the Yankees designated Jose Veras for assignment to make room for Bruney.
Yankees announcers Michael Kay and John Flaherty expressed their concern over the move, noting the team will lose Veras, who throws hard and showed some great stuff last year. But ultimately, they were okay with it, stating that the bullpen is better than it was yesterday.
I agree with both sides of this argument. The bullpen improves, as Bruney is better than Veras, but the team will lose the guy and not get anything back in return. But unlike the announcers, I am not okay with this decision.
Why? Because of Brett Tomko.
Look, Veras has been bad. His ERA is just a tad under six, and his WHIP is at 1.4. But at least he was solid last year, and has age on his side. Tomko is eight years older and has been worse than Veras. His ERA is better, but not much, and a 5.56 ERA isn't anything to cheer about. His WHIP is higher than Veras' at about 1.6. Their BB/9 are equally horrific, but Veras strikes out a batter and a half more per nine innings.
This isn't a huge deal. I mean, Veras sucked too. I just don't get why he was cut ahead of Tomko. Joe Girardi seems to have a strange system for rating people. Like when he starts Chien-Ming Wang ahead of Phil Hughes or when he benches Nick Swisher in favor of Hideki Matsui.