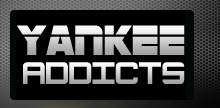 June 19, 2009 · Cecil Harris · Jump to comments
Article Source: Bleacher Report - New York Yankees
The hilarity and on-field pie-throwing that punctuated Yankees' victories in May have been absent this month. So has all the talk about the team's strong chemistry.
That's what happens when you lose. And the Yankees, who begin a nine-game road trip tonight in Florida, are in the midst of a June swoon.
They've lost six of their last nine games, including two out of three at Yankee Stadium against the Washington Nationals, the worst team in baseball.
The Yankees actually would be 2-7 in their last nine where it not for Mets second baseman Luis Castillo inexplicably dropping a pop-up with two out in the ninth last Friday, turning an 8-7 defeat into a 9-8 walk-off victory.
But things are hardly warm and fuzzy in Yankee-land and this time, overpriced tickets and overly aggressive security guards at the new Yankee Stadium have nothing to do with it.
The problems now are on the field, and perhaps in the clubhouse.
Alex Rodriguez has been a shell of himself at the plate, six weeks after returning from hip surgery. He's hitting .212 overall, including .145 (8-for-55) in June.
A-Rod, who needs one home run to tie Reggie Jackson for 11th on the all-time list with 563, usually is associated with the premier sluggers of his era (for reasons good and bad).
But lately, his anemic hitting has invited comparisons to 1970's Pirates pushover Mario Mendoza—the man after whom the sub-.200 "Mendoza Line" was named.
While Phillies second baseman Chase Utley and Red Sox third baseman Mike Lowell have seemingly recovered fully from similar hip surgery, A-Rod has not.
Whether the Yankees go to the postseason, or miss the playoffs for a second straight year under manager Joe Girardi, may depend largely on A-Rod's ability to make more headlines for his hitting than his social life.
After all, Kate Hudson is not likely to stop him from lunging at outside pitches.
But A-Rod hasn't been the only underachiever in pinstripes. The starting rotation must shoulder some of the blame.
C.C. Sabathia (6-4, 3.67 ERA) has been the only consistent starter. No other Yankees starter averages more than seven innings per outing.
Chien-Ming Wang (0-5, 12.30 ERA) has not regained the power sinker that enabled him to win a Major League-best 38 games between 2006 and 2007.
A.J. Burnett (5-3, 4.46), the chief pie-thrower in happier times, has been a disappointment.
Burnett went winless in his three biggest starts this season against the Red Sox and Phillies (blowing a 6-0 lead at Fenway Park on April 25 and lasting just 2 2/3 innings at Boston in a June 9 loss).
Burnett and Andy Pettitte (6-3, 4.52) have been six-inning pitchers, which has made the Yankees' shaky middle-relief corps a bigger factor in more games than it should be.
Joba Chamberlain, once a dominant set-up man, has been a mediocre fifth starter, averaging five innings an outing with little command and decreased velocity on his fastball.
But of greater concern for Girardi is his starting pitchers' apparent preference to throw to 23-year-old catcher Francisco Cervelli rather than veteran Jorge Posada.
Posada, who turns 38 on August 17, is not a strong defensive catcher. But he's a switch-hitter with power and the Yankees need his bat in the lineup.
Last Friday against the Mets, a languid Chamberlain threw 100 pitches in just four innings while shaking off Posada as often as he shook off midges in an infamous 1997 American League Division Series game at Cleveland.
It is up to Girardi to make sure his starters get in synch with Posada.
It's not enough to presume that the sheer length of a 162-game season will provide the cure for what ails the Yankees.
True, the season isn't even half over yet, and the Yanks trail first-place Boston by just three games in the AL East.
But the Yanks are 3-6 in the past nine and are laying eggs where they once threw pies.