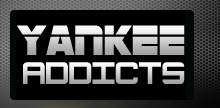 May 14, 2009 · richard thaler · Jump to comments
Article Source: Bleacher Report - New York Yankees
As indicated on my page, Yankee ticket pricing is seeing changes.
Before you think that my posts about the Steinbrenners' ticket pricing errors are "small beer," please reflect on the following math. If the Yankees' pricing policy results in an average of 3,000 premium seats going unsold at every game, that represents a year long total of 246,000 unsold tickets over a full season. Depending on your assumptions as to the price needed to sell all of those seats, here are the amounts of foregone income:
Mrkt Clrng Price Foregone Income
$250 per ticket $61.5 million
$300 per ticket $73.8 million
$350 per ticket $86.1 million
$400 per ticket $98.4 million
$450 per ticket $110.7 million
$500 per ticket $123.0 million
If the number of unsold seats is higher, the foregone income is even higher. Not included in this total are incremental income from souvenirs, etc. Of equal import, such revenue drops to the pre-tax line with very limited incremental expense, as operating a stadium is largely a fixed cost endeavor. Regardless of how rich they are, this is an extraordinary amount of money to forego because you do not want to admit a mistake!