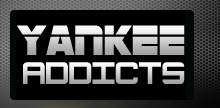 April 24, 2009 · Rob Abruzzese · Jump to comments
Article Source: Bleacher Report - New York Yankees
Look at the picture on the left. There is no excuse for having that many empty seats in a brand new stadium in the middle of a game.
I view this picture as a form of demonstration from Yankee fans.
This picture doesn't even show the absurd number of empty seats behind home plate, which is more embarrassing because it is the most common camera angle.
Yes, there were some rain drops during this game, but that does not explain how the seats surrounding this overpriced section are not completely filled.
If this picture does not persuade the Yankees to lower their ticket prices, I don't know what will.
Commissioner Bud Selig commented on the matter, but did not offer any form of advisement.
"They're going to discuss it, and whatever adjustments they want to make, they should make," Selig said. "I wouldn't be presumptuous talking about what they should or shouldn't do."
Selig's doing the right thing for now, but if nothing changes, he will be forced to take action. An entire section of empty seats in a newly opened stadium is preposterous. It gives the Yankees less of a 10th-man advantage, and puts forth a terrible image of the team.
Whenever the Yankees visit Fenway, Red Sox fans seem to give their team an advantage that was matched at the old Yankee Stadium. If the Yanks can't even fill all of their own seats, how do they expect to compete with the Sox?
It is an utter embarrassment to have empty seats behind home plate, but the Yankees are charging up to $2,625 per seat.
Either the Yankees will have to lower the prices, or Selig will eventually have to intervene. A new state-of-the-art stadium should be packed every night, and not have empty sections.
This article is also featured on lenNY's Yankees.