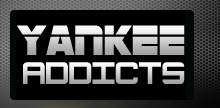 April 23, 2009 · Brenden Monroe · Jump to comments
Article Source: Bleacher Report - New York Yankees
So the balls have been flying out Hank and Hal's Coliseum of the tune to one HR every other batter. 26 Homers overall in 6 games played.
I know it's still early in the Stadium's life, but when Derek Jeter hits a dinger over the center field fence you know something is up.
Right now Yankee Stadium is playing like Coors Field (Colorado), Citizens Bank Ballpark (Philly) and The Ballpark at Arlington (Texas) all rolled into one. Teams in those stadiums have something in common: they have high ERA's.
Add into this a row of seats directly behind the wall; remember, the old Yankee Stadium had an aisle put in after Jefferey Maier's interference in 1996. This prevented fans in right field from reaching over the wall. We have already seen a couple of close calls in both left and right field.
Hitters ballparks mean that pitchers don't want to sign there. Even a chance to wear the pinstripes may not be enough to entice the next C.C Sabathia or next A.J Burnett that comes down the line in four years. Can anyone name me a big-time pitcher that signed with the Rangers in the past 10 years?
Speaking of Sabathia, I would not be surprised if the Stadium makes him want to opt out of his contract. Don't bet on it, but if it happens; I called it.
Now this could also work in the Yankees favor. If the offense can do their job and out-slug the other teams, pitchers will still come to NY to win.
Expect a lot of high scoring games this year if the Stadium keeps this up folks.
The amount of home runs hit makes me believe that Babe Ruth's ghost did make the trek across the street.
He must be pissed.