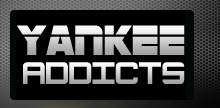 April 23, 2009 · Heartbeat Of The Bronx · Jump to comments
Article Source: Bleacher Report - New York Yankees
Still wearing a Yankees away jersey to symbolize the foreign feeling of entering the new ballpark, I ambled through Gate Six and into "The Great Hall."
(Interestingly enough, fans are now their own ticket scanners. It completely eliminates the need for dozens of people to stand around pretending to help you, but they do it anyway.)
I had seen it all before, and knew for the first time how to get to any seat in the stadium. It resembled a college student's second week in a freshman dorm, as I began to figure things out while still feeling very uncomfortable.
After reaching what would be my final resting place for the next five hours, it was apparent that the stands would not be roaring like its predecessor across the street.
The rain had scared away thousands upon thousands of season ticket holders, and many others chose to retreat to "waterproof" areas of the stadium. Only the bleacher creatures and select trust-fund babies remained in their tickets' assigned seating locations.
Shortly before the first pitch, Yankee Stadium finally began to take on a recognizable aura: "…And at designated hitter, batting third, Jason Giambi."
I looked around to make sure a bar still stood in center field where the famed black seats once rested. Indeed it did, and Giambi was again donning an "A" on his cap.
The game could be described by no word other than "damp," and it got off to a very inauspicious beginning. C.C. Sabathia's prized and high-priced pitching shoulder evaded him once again, and the Yankees quickly trailed 3-0.
Sabathia was missing spot after spot, and it appeared as though a postponement would be a blessing in disguise. As the game wore on, however, the stadium began to produce more and more occurrences of déjà vu.
Derek Jeter willed the Yankees into the lead not once, but twice. The captain made sure that his late-game heroics would not rest in peace along with the original Yankee Stadium.
Shortly thereafter, a very familiar sound began to crescendo over the stadium's myriad of speakers:
"Say your prayers little one
Don't forget my son
To include everyone
"I tuck you in, warm within
Keep you free from sin
'Til the sandman he comes…"
It was, of course, the uplifting lyrics of Enter Sandman by Metallica, a song Yankees fans have sung along to many times before. It helps to resurrect "The House that Ruth Built," and forces you to think back the everlasting memories.
There was now just one missing element to a prototypical "Yankees Classic." The game had to end as a result of an unexpected moment involving a surprising underdog. After nearly five hours of rain-soaked baseball, the Bronx got its wish.
Up to the plate stepped a little-used outfielder who was left for dead within the Yankees organization. He lost his starting job, and only remained on the Major League roster as a result of Hideki Matsui and Johnny Damon's recent injury histories.
Wearing a new number in 2008 to attempt a new beginning in New York, Melky Cabrera was forced to face former teammate Dan Giese. He was in danger of becoming a member of the very undesirable "golden sombrero" club.
A "golden sombrero" represents a player striking out four times in just one game, and Cabrera was poised to do so in consecutive at-bats. One magical swing later, he was instead met with a mob of teammates jumping around like home plate had suddenly become a trampoline.
Cabrera had hit the first walk-off home run at the new stadium, and began to recapture the mystique that flowed through the walls of the old ballpark.
Heroics from the Yankee captain? Check. Dominance from Mariano Rivera after a karaoke-like sing-along? Check. Storybook ending? Check. Unsung hero? Check.
Yankee Stadium felt familiar for the first time, and more importantly, it felt like home.