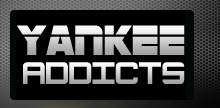 May 15, 2009 · Nick Xouris · Jump to comments
Article Source: Bleacher Report - New York Yankees
About two years ago, my family moved into a new house.
I like the new house. It's bigger, it's nicer, and it's in a better neighborhood. It's an obvious upgrade in just about every physical way.
Friends of mine, who have been to both, would be hard-pressed to find even a single aspect of my new house that they liked better in the old one.
But after two years, there is an emotional attachment missing that I have been unable to develop.
Curious, I began thinking: What makes a house one's home?
I pose this question one week after my first visit to the New Yankee Stadium. A ballpark so obnoxiously luxurious—there is an in-house butcher people!—but bereft of the qualities that made the old version so endearing to baseball fans. I loved the new place; but it just didn't feel like Yankee Stadium.
And immediately, an analogy to my own home hit me.
Yes, objectively, the new place is better in every way. But it's extremely difficult to overcome the memories I have of its predecessor.
I've witnessed too many classic games at the old stadium to replicate the same level of emotional investment with the new park—much like my feeling towards my two houses. It's like a girlfriend.
The longer you've spent with her, the harder the breakup is, and the more willing you might be to 'stay friends' with the next girl rather than delve into another relationship.
And even though I'm a Red Sox fan, last Monday I realized that I was more than just friends with the old Yankee Stadium. Shea Stadium and I? We were definitely just friends. Acquaintances even.
But that bitch from the Bronx?
Me and her had something. I'll be honest. It's sad to see her go. There was NOTHING like a big night game at Yankee Stadium. The bright lights, the electricity, the great New York City baseball crowd—everything about her was perfect.
Yea, she treated me like crap and kicked my ass more times than not, but I'll miss that. In a masochistic way, it's what made her special. I'll never forget leaving her in tears on Oct. 16, 2003, moments after Aaron Boone drilled a Tim Wakefield knuckleball into my section. I even promised I'd never visit her again after that.
But those heartbreaks and suicidal feelings are what made the triumphs so special. One of the greatest parts of the 2004 World Series run was that the Red Sox were able to overcome the ghosts that they succumbed to just twelve months earlier, on that same Yankee Stadium field.
I'm convinced that that victory has had a major influence in the current role-reversal that this rivalry has taken.
And now, rather than the still frames of 55,000 lunatics singing New York, New York and taunting me as they celebrated Boone's HR into the night while I remained crying in Main Box Section 30, Row G, my lasting memory of the old Yankee Stadium is a Red Sox' right-fielder, J.D. Drew, winning the All-Star Game MVP. Whowouldathunkit?
There's a lesson in all of this somewhere. In order to appreciate the future, you must accept the past for what it is—the past. Memories are meant to be cherished and though they will never be replicated, you can not let nostalgia stand in the way of creating new memories. My new house IS my home. It is up to me to invigorate it as such.
And as the Yankees attempt to do the same with their new home, what will some of the initial memories of the $1.6 billion palace be?
How about Jason Bay hitting mammoth home runs and Jonathan Papelbon striking out Robinson Cano with bases loaded for the final out while I'm sipping a Johnny Rockets' milkshake and chowing down a freshly-cut steak sandwich from the aforementioned in-house butcher, delivered to me by my section's personal waiter.
You know what? On second thoughts, I think I can get used to this place after all.