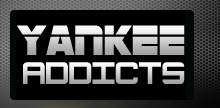 April 19, 2009 · John Fennelly · Jump to comments
Article Source: Bleacher Report - New York Yankees
New Stadium Playing Much Differently Than Planned
Three games have been played at the new Yankee Stadium thus far and 17 HRs have been hit. Add the eight hit in the exhibition games against the Cubs and that's 25 HRs in five games, or for you shellshocked Yankee fans, five HR per game.
According to ESPN's Buster Olney, the Yankees are chasing down the architects and engineers to find out why balls are flying out of this place in record numbers. Last year, according to Olney, there were only 160 HRs hit in 81 games played at the old Stadium. If this year's pace continues, they'll have a Colorado-like 400-plus homers hit in the Bronx. And A-Rod hasn't played yet, either.
My contention is that there is no problem with the Stadium. The dimensions are fine. They are exactly the same as the original Yankee Stadium that opened in 1923:
Left Field 318′
Left Center 399′
Center 408′
Right Center 385′
Right Field 314′
The team is panicking. My suggestion is you stop looking to blame science and looking to blame some of those ragarm pitchers on the Yankee roster.
Chien Ming Wang is so bad right now, he has legions of ex-ballplayers dreaming of a comeback. The bullpen is atrocious. Mariano Rivera is the only name worth repeating.
Stop blaming the ball park and start missing some bats.