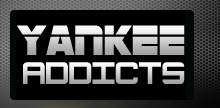 April 24, 2009 · Nick Antonicello · Jump to comments
Article Source: Bleacher Report - New York Yankees
The $1.6 billion Taj Mahal known as the new Yankee Stadium hardly represents the dozens of world championships. Nor does it represent the legends of Ruth, Gherig, DiMaggio, Berra, Mantle, Jackson, or Jeter.
It represents greed, plain and simple.
Built and supported on the backs of overtaxed New Yorkers, the new Yankee Stadium represents a new kind of corporate greed and insensitivity.
With a pair of good seats costing well over $1,000 for a single game, the thought of purchasing court side seats at the Garden to see the uninspiring New York Knickerbockers seems somehow inviting!
With Yankee brass proclaiming that they don't want to talk about empty seats and ridiculous ticket prices, how can one ignore what's so obvious to the everyday Yankee fan who's best chance to see a game is on the YES network?
The Yankee owners have become greedy and the recession is only showing how stingy they've become.
The Joe Girardi era has been less than stellar and these outrageous ticket prices only call for Yankee fans to demand greatness each and every pitch. And, why not? Most Yankee fans will refer to back pages of the tabloids to actually see the inside of a public facility they purchased.
It's time for Yankee management to get with reality and start discounting ticket prices so that fans can see the games. Few people can afford a $1,000 night out at the ballgame.
If the Babe, Lou, or The Mick were still alive, then they would be outraged by the $10 beers and $500 ticket prices!