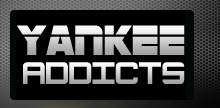 April 21, 2009 · Heartbeat Of The Bronx · Jump to comments
Article Source: Bleacher Report - New York Yankees
After countless medical opinions and reviews of tests performed on Xavier Nady's injured elbow, it appears he has not torn a ligament after all.
According to SI's Jon Heyman, Nady will in fact not require season-ending surgery, and will instead require a rehabilitation program lasting "a period of weeks."
It has not yet been released exactly how long this rehab period will last, but Nady should be back in pinstripes in 2009.
This is excellent news for a Yankees team that has struggled offensively to start the season and has been in desperate need of a right-handed power bat.
The imminent return of Alex Rodriguez will greatly help this issue as well, but Nady will re-energize a suddenly weak bench. Placing Nick Swisher in the starting lineup day after day had left New York with no pinch-hitting weapons in the late innings.
Stay tuned as more information is leaked hour by hour, but there seems to be reason to smile in the Bronx today.
The "X-Man" can dry last week's tears; his season is not yet lost.