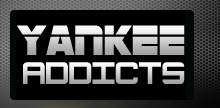 December 17, 2009 · Doug Rush · Jump to comments
Article Source: Bleacher Report - New York Yankees
Most of the articles I've published about the Yankees' offseason plans have been based off newspaper articles and rumors written on baseball Web sites. This will be my first article making a possible suggestion about a player the Yankees haven't looked into yet.
Before, I had written about the Yankees talking to Nick Johnson about possibly being the team's designated hitter for 2010. While that is happening, the Yankees are still looking into the possibility of bringing back Johnny Damon for 2010 to play as the left fielder and maybe even a part-time DH.
But if these plans fall through, the Yankees have to have backup options. And now, I'm going to make a possible suggestion: What about bringing in Vladimir Guerrero to the Bronx?
Now, I know there is a downside. He's going to be 35 years old in 2010 and was injured a lot in 2009, missing 62 games in the regular season.
He also has become more of a DH rather than a right fielder. In 2009, he only played two games in right field, as Bobby Abreu became the everyday right fielder for the Angels.
But, there's still a ton of upside to Guerrero. He's still one of the most lethal hitters in the game and proved in the 2009 postseason that he can still kill the ball.
In the 100 games he played, he did only hit 15 home runs and 50 RBI, which is a significant drop-off from what Guerrero usually averages. But Guerrero was not healthy that entire season, so consider 2009 a wash.
Against the Red Sox in the ALDS, Guerrero hit .400 with no home runs and two RBI, but Guerrero got a key hit in the ninth inning off Jonathan Papelbon that keyed the Angels rally in Game Three to knock out Boston in the playoffs.
Against the Yankees in the ALCS, Guerrero hit .370 with one home run and five RBI. Guerrero had a key two-run home run to tie Game Three and got a key RBI single in Game Six against Mariano Rivera that almost sparked an Angels rally.
The playoffs showed that Guerrero can still hit with the best of them. The days of him hitting 39 home runs and 126 RBI while hitting .337 like he did in his A.L. MVP season of 2004 are likely behind him.
But in 2008, he did hit 27 home runs and 91 RBI while hitting .303 in 143 games, which are still very good numbers.
Another great thing about Guerrero is his surprisingly low strikeout totals—having never had more than 100 strikeouts in one season. His highest total was all the way back in 1998, his first full season in the majors with the Expos, with 95. With the Angels, his highest was only 77. So while Guerrero might not walk as much, he doesn't strikeout a lot.
There could also be the argument that if the Yankees are going to look at Guerrero, they should have just brought Hideki Matsui back.
While that might be true, Matsui isn't even an option anymore, as he is taking Guerrero's spot in the Angels lineup as their DH in 2010.
But Matsui's knees have also been so bad that playing in the field isn't even an option for him anymore.
If Guerrero's knees were to hold up and stay healthy, he could be put into right field for some part time, where his arm is one of the strongest in all of baseball. With his age, keeping him out of the field might be the best thing, but it's always a possibility.
Guerrero is someone the Yankees should have signed back in the free agency period before the 2004 season instead of Gary Sheffield, but what's done is done. Sure Guerrero will be 35 and isn't 29 when he was last on the market, but he still has a lot of value left as a hitter.
As of right now, the only teams that have been reported to have some interest in Guerrero are the White Sox and Rangers.
Reports have said that the White Sox might be done looking for players after they acquired Juan Pierre and Andruw Jones to go along with Alex Rios and Carlos Quentin in their outfield, which means one of them might end up being Chicago's DH.
The Rangers could also be a fit, but they are also in the middle of having the team purchased by new ownership because Tom Hicks ran into financial trouble. They haven't really made many moves this offseason and some wonder if the Rangers can even add to their roster this winter.
So where could this leave Guerrero looking? You have to wonder if the thought of bringing Guerrero into the Bronx has crossed Brian Cashman's mind at all.
He wouldn't cost $15 million like he was making in 2009 with the Angels, and he probably won't demand the $13 million that Damon is still looking for in a contract.
Matsui got $6.5 million, which would be considered a bargain for the Angels. For under $10 million, Guerrero could be a cheap, short-term solution for a lineup that is deep as it is now, and could find a way to get even stronger.
I'm not saying Guerrero should be a long-term solution for the DH spot, not when he's 35 and possibly on the downside of his career. And especially when the Yankees are eventually going to see players like Jorge Posada taking that role in the future.
But the Yankees could use Guerrero's power in the lineup. Even if it were for a season or two. It's something to consider thinking about.
Read more New York Yankees news on BleacherReport.com