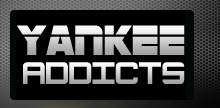 December 16, 2009 · Doug Rush · Jump to comments
Article Source: Bleacher Report - New York Yankees
Just when you thought you heard all the rumors possible, there's a new one that sneaks up out of nowhere and catches you by surprise, but makes you think.
We all know the Yankees are looking to add to their starting rotation with CC Sabathia, A.J. Burnett, and Andy Pettitte already committed to the 2010 season.
With John Lackey, Randy Wolf, Rich Harden, and Roy Halladay already signed and moved to other teams, the Yankees are still looking in other places to add starting pitching.
They have been linked to Ben Sheets or Justin Duchscherer, both players who missed the entire 2009 season with arm and elbow problems, respectively, so for Brian Cashman to add someone like that is a major risk, especially when Sheets is looking for a contract near $12 million a season.
On Tuesday night, CBS Sports writer Danny Knobler wrote in his blog that the Yankees and Braves have had discussions and threw Derek Lowe's name in the mix of another pitcher the Yankees could make a deal for.
Seems like deja vu all over again from last winter? Yes, it does.
Not only with Sheets being linked to the Yankees, but now with Lowe as well. Both were among the main names in the free agent market, but the Yankees passed on Lowe when they signed the younger Burnett.
Now with two rotation spots open again for 2010, Lowe's name once again comes up.
Last winter, the Braves ended up signing Lowe to a four-year, $60 million deal to be their ace.
Lowe went 15-10 with a 4.67 ERA in 194 innings with 111 strikeouts in 34 starts. He won 15 games but had some control and mechanical problems during the season.
However, Lowe has been quoted as saying he is looking forward to fixing and changing his mechanics so he can be an effective pitcher for 2010 and beyond.
Lowe's a lot older than most of the free agents out there right now; he will turn 37 next June.
But, Lowe has been very durable throughout his career and ever since becoming a full-time starter in 2002, has made over 30 starts in every one of those seasons.
Lowe's style was similar to Chien-Ming Wang's, with a heavy sinker-ball-type style to induce ground balls and double plays, which could be a benefit when he is on his game.
Considering Yankee Stadium allows a lot of home runs, if Lowe can fix his mechanics and get back to his style that won him many games, his pitching could be a major advantage, especially for a team like the Yankees.
It's quite surprising to see the Braves looking to trade Lowe after just one season where they dished out big time money to land him, but they have a surplus of pitching.
They have 23-year-old Tommy Hanson, who came up last season and went 11-4 for Atlanta. Hanson was the top pitching prospect for the Braves and the main reason why they didn't trade for Jake Peavy last winter.
They have Tim Hudson returning from injuries. When healthy, Hudson, who will be 34 next year, can still be a dominant pitcher.
Along with Hudson and Hanson, the Braves also have Jair Jurrjens (14-10) and Kenshin Kawakami (7-12) in their rotation.
They also have another player in the rotation very familiar to the Yankee fans in Javier Vazquez, who was also 15-10 in 2009.
Vazquez and Lowe were both put on the trading block, but the Braves would rather deal Lowe than Vazquez because of Lowe's age and his contract being higher.
Now the Angels have been mentioned in being possible suitors now for Lowe, after all they did just lose Lackey to the Red Sox. Knobler even said the Angels could start a deal with Juan Rivera to land a pitcher. But Vazquez would prefer not to be traded to the West Coast, as he has a preference to the East.
The same can also be said for Lowe, who left the Dodgers after four successful seasons where he went 54-48 with Los Angeles. Lowe left because he preferred to pitching on the East Coast, where the atmosphere of the competition was more to his liking.
The Mariners were previously rumored to be interested in Lowe, which was the team Lowe originally started with before being traded to Boston in 1997.
But Seattle just landed Cliff Lee in the Halladay deal, so I doubt the Mariners would be looking to add Lowe as well. Plus, Seattle, like Los Angeles, is also on the West, which likely would have killed a deal.
So if the Angels end up not being a preference to Lowe, maybe the Yankees would be.
Now, I know you're going to say this is a big contract to add on, especially with Sabathia, Burnett and Pettitte's contracts, and Lowe makes $15 million per season.
This is true, but according to many sources, the Braves are so anxious to deal Lowe, they would be willing to pay a portion of Lowe's contract if he gets moved.
The Braves have also been rumored to said that they don't necessarily have to get major-league ready talent or a right-handed bat in return. Atlanta would even take prospects in a deal for Lowe.
So if Sheets' asking price doesn't go down, and more pitchers get snagged off the market, Cashman may have to take a serious look at Lowe.
He's older, but he is also a durable pitcher with playoff experience who is no stranger to the AL East.
After all, Lowe, like Pettitte in the 2009 playoffs, was the winning pitcher in every clinching game for the Red Sox back in 2004 when they won the World Series.
So Lowe knows how to pitch important games, which would be a plus over Sheets, who has never pitched in a playoff game in his career.
Whether this rumor for Lowe has any life to it or it is simply just a rumor, it is one that makes you wonder if this can go anywhere. Stay tuned.
Read more New York Yankees news on BleacherReport.com