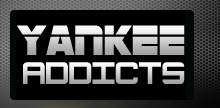 December 20, 2009 · Shashwat Baxi · Jump to comments
Article Source: Bleacher Report - New York Yankees
Let me start by saying that I'm one of the biggest Derek Jeter fans in the world.
I have followed Jeter since his first days in early 1996 and continue to be one of his strongest supporters, both on and off the field. This article is in no way a knock on Derek or an attempt to infer that he may be gay.
A lot of Derek Jeter haters like to insult him by saying that he "drinks wine coolers" or "sucks A-Rod" as the Red Sox Nation shirts would read. What if Derek Jeter was actually gay and all of his super model and celebrity girlfriends were a cover up!?
Derek Jeter is the captain of the New York Yankees, five-time world champion, 10-time All-Star, and 2009 Sports Illustrated Sportsman of the Year.
These are only a few of his numerous accolades, which would be far too many to try and list. Off the field, Jeter started the Turn 2 Foundation which has donated over $10 million for charity youth work in Michigan, New York, and Tampa.
He has also had a list of some of the most beautiful A-list celebrity ladies on his arm over the years. From Mariah Carey to Alyssa Milano to now Minka Kelly, Derek Jeter is the epitome of a New York playboy.
What if it were all a cover-up? What if Derek Jeter was gay? Would he still be the beloved captain of the New York Yankees? Would he still be seen as the face of baseball? Would New York City still embrace him if he was on the "down low"? How would baseball fans react to the all-time hitter in Yankees' history and the all-time hitting shortstop being gay?
Derek Jeter is the face of his sport right now, so it is easiest to ask the questions about him. If the bullpen catcher for the Pittsburgh Pirates is gay, nobody is really going to care. However, if Derek Jeter was gay…there would be a much different reaction from sports fans across the country.
The question does not only come up with Derek Jeter or only in the MLB, but in professional sports across the United States. The same question can be posed about superstars in other sports.
How would basketball fans respond if it came out that Kobe Bryant or LeBron James was gay? Would football fans go crazy if it was reported that Brett Favre or Peyton Manning had boyfriends? What about Tiger Woods or Phil Mickelson in golf? How about Sidney Crosby or Patrick Kane in hockey and Dale Earnhardt Jr. or Jimmy Johnson in car racing?
This idea of being gay conjures up an image of wimpy, frail, and non-athletic; which is exactly why opposing fans use it as a way to insult players of rival teams. The stigma of "gay" has become encultured in the United States as being a negative adjective, which is commonly used as an insult to professional athletes and everyday Americans alike.
Tony Romo, commonly referred to Tony "Homo" outside of Cowboys' fans, is just one example of how the vernacular has changed over time.
Around professional sports in this country, there would probably be a very similar response. These athletes, and the sports they play, are seen as masculine and very manly. Homosexuality is seen as the opposite of that, which hurts the entire scope of the sports world.
The United States Military has a governmental rule that people will not be asked to give their sexual orientation, as seen in the "Don't Ask, Don't Tell" policy.
The professional sports world in the United States seems to have taken a page out of this policy, where the idea of homosexuality will not even be discussed. What you do in your personal life should be nobody's business, as long as you keep it to yourself.
In the Playmakers on ESPN, Cougar WR Thad Guerwitcz came out as being gay and was completely ostracized by members of his team. The owner even told me that he would have to be placed on the injured reserve or else leave the team.
Granted that this was just a television show, but how close is that to the truth about what would happen? Would there be a different type of outcome in a contact, team sport like football or hockey as opposed to golf or racing?
The main question still remains, and that is would it matter? Are fans of professional teams or athletes concerned about the sexual orientation of their favorite players? What if some of the greatest players came out to reveal their homosexuality after already getting into the hall of fame?
Would His Airness, Magic, or Larry Legend be less revered in Springfield? Would voters keep Jerry Rice, Emmitt Smith, or Chris Carter out of Canton? Would fans disregard the stats of Hank Aaron, Nolan Ryan, or Reggie Jackson in Cooperstown?
Is it anyone's business what these Hall of Famers did in their private lives and does it matter now?
Throughout it all, the conversation still comes back to Derek Jeter. Millions of people idolize Jeter, as the girls want to be with him and the guys want to be him. If Derek Jeter was gay, would it matter to anyone? 
I know that I wouldn't care, because his sexual orientation did not make a damn bit of difference in the way he led the New York Yankees to their 27th World Series Championship.
Read more New York Yankees news on BleacherReport.com