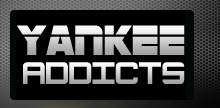 December 22, 2009 · Doug Rush · Jump to comments
Article Source: Bleacher Report - New York Yankees
Only two months removed from winning the 2009 World Series, the Yankees have had a very busy offseason.
They re-signed Andy Pettitte to a one-year, $11.75 million deal.
They made a three way deal to land Curtis Granderson, while sending Austin Jackson and Phil Coke to the Tigers and Ian Kennedy to the Diamondbacks.
They signed Nick Johnson to a one-year, $5.5 million deal.
And today, they re-acquired Javier Vazquez from the Braves in exchange for Melky Cabrera.
So in the offseason, Yankees GM Brian Cashman has landed a new center fielder, a new designated hitter, re-signed their No. 3 starter, and traded for a fourth starter.
While most of the team is set, there is one spot left that Cashman needs to address—left field.
Most thought Melky was going to be shifted over to left field, but with him being traded today to the Braves, that plan was quickly scrapped.
Don't expect Curtis Granderson to move; he will be the everyday center fielder.
Brett Gardner is the fourth outfielder and will be a late inning replacement for speed and defense. So don't look for Gardner to be a starter, his bat is not strong enough.
There is only one option left, and it's quite clear. It's been one I've been preaching for months.
Bring Johnny Damon back to the Yankees.
It's pretty clear the Yankees don't want to hand out a big contract to Jason Bay, who they feel will be a DH when he is 35-36 years old.
They also aren't trying to pursue Matt Holliday either, who likely is going to get big money to stay with the Cardinals.
There is Mark DeRosa, but the Yankees aren't buying on what he wants in a deal.
Damon is really the only option left out there.
Damon originally wanted a three-year deal at around $13 million per season, something nobody in the league is going to offer.
But Damon was willing to take a two-year, $20 million deal. The Yankees were offering a two-year, $14 million dollar deal. Damon's contract demands led to the signing of Johnson and most felt Damon's tenure in pinstripes was over.
Not so fast on that one.
The trade of Melky to the Braves basically all but invites the Yankees back into talks with Damon, and with what has happened, Damon needs to tell his greedy agent Scott Boras to keep quiet and work out a deal.
Anywhere between two-years and $16-$17 million for a contract for Damon is extremely fair, especially for someone with the bat that Damon has.
Unless the Yankees overspend for Bay and Holliday, Damon's 24 home runs, 82 RBI, and .282 average for left field is pretty hard to replace.
Putting Gardner there would be a mistake. You do not put a fourth outfielder with three home runs and 23 RBI at a corner outfield spot.
The Yankees addressed most of their needs in the offseason well before Christmas, but they have one more they need to address.
Who knows how long it can and would take, but most Yankee fans know it needs to get done.
And I'll say it one more time, hoping Mr. Cashman is hearing me loud and clear.
Bring Johnny Damon back to the Yankees!
Read more New York Yankees news on BleacherReport.com