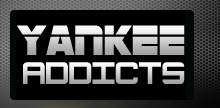 April 21, 2009 · Jeff Moody · Jump to comments
Article Source: Bleacher Report - New York Yankees
The Yankees and Cleveland Indians opened the new Yankee Stadium and it became the biggest story in baseball for the first two weeks. The old Yankee Stadium did have a tremendous amount of history, so the attention given to the replacement stadium is somewhat deserved.
However, analysts, former players, scouts, GMs, beat reporters, national reporters, fans, and detractors have spent everyday since Thursday explaining why this new Yankee Stadium, which is built to the same dimensions as the former stadium, allows so many home runs and why the Indians were able to score 22 on Saturday.
Can we just stop please? We all know the reason why so many players hit homers and scored so many runs. When it comes to the Yankees, everyone has a tendency to out-think the room instead of pointing out the obvious.
So, allow me to point out the obvious in three easy steps:
1. The Yankees pitching has been awful.The 22 run massacre by the Indians was brought on by one huge factor: Chien-Ming Wang. Here's his stat line for the day: 1.1 IP, 8 ER, 1 HR. Was it the new Yankee Stadium, with its wind tunnels making Wang give up so many runs? No!
They only hit one HR against him. They hit two home runs off of something called Anthony Claggett, two off of Edwar Ramirez, and one off of Jose Veras. The bullpen, outside of Rivera, has been a question mark since the off-season, especially when they made Jaba Chamberlain a starter.
Wang's sinker is not sinking and that pitch is his only plus pitch. The bullpen is a mess (see above sentences describing homeruns off relievers). Let's not explain away terrible pitching with scientific reports about how the ball travels due to wind currents.
2. The Yankees hitters are supposed to hit home runs. Is this not why Nick Swisher was kept on to be the fourth outfielder? In the 22 run debacle, Mark Teixeira and Melky Cabrera hit home runs. The other players hit home runs in the rest of the series.
They are supposed to hit home runs. Every year, the Yankees want 10+ homeruns from Derek Jeter, who is not a power hitter. The Yankees pay big money in free agency for one thing: home runs. They do not play small ball.
They go for two-and-three-run homers. People cannot define a "hitters' park" by the home runs hit when the home team is built around hitting home runs. Hence, the Yankees bring in Swisher, Tex, and allow Jorge Posada to still play behind the dish (20+ HR's).
3. The Cleveland Indians can hit and have pitching questions themselves.Here are some names for you: Mark DeRosa, Grady Sizemore, Victor Martinez, Travis Hafner. All of these guys are (or were two seasons ago) home-run hitters.
Not to mention a future star in Shin-Soo Choo (best name in baseball). Even if they are not hitting bombs, they are more than capable of extra-base hits. In addition, Fausto Carmona has not been right since surgery and only Cliff Lee has Cy Young stuff, and he has started slow.
Is it really a shock that they give up runs? Is it really a shock that they can score?
Now we all know that baseball runs through New York to 85 percent of the baseball world, but let's stop all the nonsense about the engineering of the new Yankee Stadium and call this series what it really is: good hitting and bad pitching.