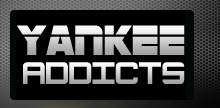 May 7, 2009 · Colin Linneweber · Jump to comments
Article Source: Bleacher Report - New York Yankees
The mother of New York Yankeesflamethrower Joba Chamberlain was arrested this past weekend at her apartment in Lincoln, Nebraska on charges that she peddled methamphetamine to an undercover cop last February.
Lincoln Police Capt. David Beggs said Monday that Jacqueline Standley was pinched after she allegedly sold 1 gram of meth for $110 to the Cornhusker State's equivalent of Andy Sipowicz.
Standley, 44, was charged with delivery of an "exceptionally hazardous drug" and a judge set her bail at $5,000.
Standley began seriously abusing drugs and alcohol when her son was a toddler and she was forced to relinquish her parental duties to Joba's father, Harlan Chamberlain.
The strung-out, female replica of Joba with tits has been essentially estranged from her son since their division in the late-1980's.
Harlan, 56, an individual that was born on a reservation for the Winnebago American Tribe before treatment he was receiving for polio mandated that he move, has been Joba's lifelong backbone and entire support system.
Last April, Harlan collapsed at his home and he was listed in critical condition at St. Elizabeth Regional Medical Center in Lincoln.
Upon being informed of the grim news at Fenway Park, Joba, 23, cried inconsolably and requested an indefinite leave of absence from the Bronx to spend time with his ailing father and friend in Nebraska.
Harlan miraculously recovered in a timely fashion and Joba, who is 7-4 with a 2.47 ERA since being promoted to the big leagues in August of 2007, returned to the mound for the Yankees within a week of his father's illness.
Two months after the former University of Nebraska-Lincoln superstar resumed his instrumental role as New York's set-up man, Yankees Part-Owner Hank Steinbrenner finally realized his fantasy when Joba was transitioned from the bullpen into the starting rotation.
Initially, Chamberlain thrived as the hard-throwing ace of the Yankees beleaguered staff.
However, likely because of the risky and rudderless manner in which New York's brass converted their precocious hurler in the middle of the season, Chamberlain injured his shoulder pitching on a sweltering August evening in Texas against the Rangers.
The injury was ultimately diagnosed by Dr. James Andrews as a simple case of rotator cufftendinitis and Joba was placed on the 15-day disabled list.
In the immediate aftermath of the Yankees disappointing 2008 season, Joba was arrested near his hometown of Lincoln on U.S. 77 for speeding, driving under the influence and for possessing an open container of alcohol in his vehicle.
After his arraignment was postponed four times, Chamberlain pled guilty to drunken driving in April and was sentenced to probation in the same Lincoln courtroom where his mother was indicted this past Monday.
Generally, one could easily dismiss Chamberlain's recent mishap as the mistake of an overwhelmed youngster who is attempting to come to terms with his newfound wealth and fame.
Unfortunately, such reasoning may be too simplistic in relation to Joba's current situation.
According to some of Chamberlain's family members and longstanding friends, Joba generally veered away from alcohol throughout his adolescence and early-adulthood before he became the Big Apple's newest athletic sensation.
Chamberlain's altered lifestyle habits are especially concerning when one considers the drug and alcohol epidemic that has long plagued many Indian reservations nationwide.
Still, it is impossible and unfair to compare the personal plights and family issues that one person experiences with those that another individual does in the course of life.
For instance, Boston Red Sox 2008 American League MVP Dustin Pedroia is a tremendous baseball player and a seemingly solid man. Sadly, his brother, Brett, 30, is an admitted pederast who is awaiting his June jail sentencing in California.
Regardless of the fact that Pedroia's kin is a "sex offender with a record," Boston's second baseman himself isn't and he does not deserve to be held accountable in any capacity for his brother's sins.
It is safe to presume that Dustin Pedroia will never be required to go door-to-door with his brother and the Big Lebowski's Jesus Quintana to reveal to neighbors their affinities for "8-year-olds, Dude."
Joba Chamberlain is a very good pitcher who gained fame seemingly overnight despite the fact that he owns a relatively skimpy pedigree and does not currently demand the mass adulation that he garners.
Tragic New York Metsicon of yesteryear, Dwight Gooden, was a great pitcher who also became a legend seemingly overnight in the mid-1980's thanks to his shire dominance and utter greatness on the hill.
Nary a batter in the world could halt or even slow Gooden's apparently inevitable path to the National Baseball Hall of Fame and Museum.
Regrettably, drugs and alcohol proved able to forever stall Gooden's venture to Cooperstown and into baseball immortality.
Chamberlain and Gooden are different pitchers on the hill and they are largely opposite human beings off of the mound as well.
One can only hope that Chamberlain and Gooden have different endings to their respective careers.
Chamberlain needs to create for himself sensible Joba Rules and he needs to strictly follow them.
If he establishes boundaries and sagely adheres to them, he will be fine on the mound and as a human being.
If he doesn't, to be continued…….
http://www.newyorkyankeesnews.com/colin815/weblog/7198/filipino-pac-man-destroys-english.html