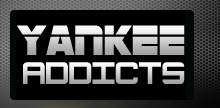 February 15, 2010 · tank jones · Jump to comments
Article Source: Bleacher Report - New York Yankees
Point: Yes, he is ahead of Pete Rose's pace now.
Counterpoint: I'm thinking no.  It would be nice and all but he has a long way to go.
P: Bill James gives him a six-percent chance of reaching 4,000 hits.
CP: That does not sound promising.  Projections like that are pointless. Suppose he does make it to 4,000.  He will still be 256 short of Rose.
P: Well, Jeter is still in top physical condition.
CP: Yeah, now.  When he is 43, the hits will be tougher.
P: He will have to adjust. 
CP: Well, if Jeter averages 188 hits per season for the next nine seasons, he can pull it off.  You think he can do that?
P: I'm certainly not saying it will be easy.
CP: Pete Rose says the first 3,000 hits are easy.  Maybe Jeter can make the other 1200 easy.
P: The thing about Rose was the ability to pencil his name in the lineup every day.  Jeter can DH, though.  I don't think playing time will be an issue.
CP: Rose played for bad Reds teams.  The fans wanted him to get that record so they tolerated his less than stellar numbers.  Jeter won't have that luxury with the Yankees who must win every year.
P: True but the Yankees love Jeter and would let him punch up 500 at-bats somewhere if he wanted to.
CP:  He will have to do this in the outfield or DH.  Mark Teixeira and Alex Rodriguez are signed for the next few years.  One of those two will play DH.
P: Yeah, so Jeter plays right or left field.  Don't rule out shortstop either.  Omar Vizquel still plays shortstop and he is 43.
CP: Vizquel plays very little shortstop at this point.  I can't see the Yankees tolerating a weak hitting outfielder.  If he isn't hitting, the Yankee faithful might turn.
P: Jeter would be an exception.  He would play left or right field.  He has decent speed.  By that time, his arm will be average or a tad better than that.  He might compare to Johnny Damon.  He would play decent defense and be an OBP guy in the lineup.  The Yankees could live with that.
CP: Damon has played outfield his entire career.  Jeter would have to work hard to make that transition.  Not many guys that age can play enough to get the hits he will need.
P: You just can't count Jeter out.  They questioned his defense and in 2009, he stepped up and improved.
CP: You believe he will keep working hard into his 40s?
P: That really is the question.  He may not especially since he got engaged.
CP: I can't see Jeter even playing when he is 43.
P: The other thing you are missing is how big the record would be for the Yankees.  They would love for an all-time great Yankee to have the hits record.
CP: I predict he will follow Joe Dimaggio and retire at his peak.  He won't want to hang around for a record.  Jeter will have to be content with his all-time postseason hits record.  A guy to watch out for is Ichiro.  I could see him playing into his late 40s slapping hits.  Ichiro has the training and desire to bang out hits for a long time.
P: Talk about your long-shots.  Ichiro is over 2,000 hits behind and would need to play at his current level for 10 more years.  Most of his hits come from speed, too.
CP: True…Pete Rose set a high number to reach.
Read more New York Yankees news on BleacherReport.com