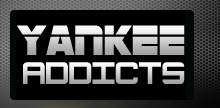 March 11, 2013 · Doug Rush · Jump to comments
Article Source: Bleacher Report - New York Yankees
All eyes will be on Robinson Cano in 2013.
Many fans are curious to see how his season goes during the final year of his contract; one where he is set to be one of the top free agents on the market.
The Yankees have attempted to sign Cano before he hits free agency after the season and offered him what was referred to as a "significant offer" at the end of February.
There has been no official word yet if Cano rejected the offer or not, but he also hasn't been in a hurry to sign the Yankees' offer either.
The Cano topic has been one that's been greatly debated all over by fans since the end of the 2012 season.
The pro-Cano fans feel that Cano is too valuable to lose, and he needs to be signed at all costs.
On the other side, the anti-Cano fans feel that he is not worth signing to a long-term deal since he's over 30, and the Yankees should pass on him.
The one thing we haven't really touched on with Cano is the upcoming season, because that could really dictate what kind of deal he could get.
At least, that is if the Yankees don't lock him up first. But let's assume that they don't and Cano gets to the end of the season without a new deal in place.
Will Cano crack under the pressure of having to step up his game in his walk season, or will he have one of his best seasons as a pro and put the pressure on the Yankees?
My gut feeling says Cano has his best season because he knows how important it is.
He knows that not only is he playing for perhaps the biggest contract of his career, but he's going to have to carry a big part of the Yankees' offense on his shoulders this season.
Mark Teixeira, Alex Rodriguez and Curtis Granderson will be out during the first month of the season, leaving it up to Cano to be the guy in New York.
Cano is enough of a veteran to not let the pressure of New York get to him because his personality doesn't let things bother him, or at least, he doesn't let it show in public.
If anything, pitchers are going to be careful around Cano that first month and you might see him get the Barry Bonds treatment in the offense—getting more walks and fewer good pitches to hit.
If Cano can be a selective enough of a hitter, he has a great enough of a swing to drive the ball to all directions on the field, which is why he's usually around a .300 hitter in his career.
If he's even more selective, he could be an even more dangerous hitter while sporting a high average this season and maybe even contend for a batting title.
Plus, I think if Kevin Youkilis and Travis Hafner perform anywhere near how they used to, they could take a lot of the pressure off Cano in the offense as well.
Even if Cano has the slightest bit of struggles in 2013, the Yankees know they will have competition for his services if he hits the open market.
If the Yankees want Cano around past 2013, they'll have to pay up big time.
Deep down, they know they cannot afford to lose him in the long run.
But, like I said earlier, all eyes are on Cano this season—and not just from the Yankee organization.
Stay tuned, Yankees Universe.
Read more New York Yankees news on BleacherReport.com