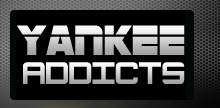 January 2, 2010 · Greg Fertel · Jump to comments
Article Source: Bleacher Report - New York Yankees
Year
Age
Tm
Lg
ERA
G
GS
IP
H
ER
HR
BB
SO
HR/9
BB/9
SO/9
2007
22
GULF
2.62
12
0
24.0
20
7
0
11
32
0.0
4.1
12.0
2008
23
2 Teams
2 Lgs
2.11
32
11
106.2
72
25
2
44
125
0.2
3.7
10.5
2008
23
Tampa
FLOR
1.10
3
3
16.1
12
2
0
5
15
0.0
2.8
8.3
2008
23
Charleston
SALL
2.29
29
8
90.1
60
23
2
39
110
0.2
3.9
11.0
2009
24
2 Teams
2 Lgs
3.17
19
19
96.2
76
34
11
45
94
1.0
4.2
8.8
2009
24
Tampa
FLOR
1.29
3
3
14.0
9
2
0
4
17
0.0
2.6
10.9
2009
24
Trenton
EL
3.48
16
16
82.2
67
32
11
41
77
1.2
4.5
8.4
3 Seasons
2.61
63
30
227.1
168
66
13
100
251
0.5
4.0
9.9
Height: 6'1″
Weight: 185 lb
Throws: Left
Born: 2/21/1985
Wilkin De La Rosa has been in the Yankees farm system for a long time. He was signed sometime before the 2002 season as a somewhat speedy slap-hitting lefty outfielder. After a few seasons, De La Rosa was actually a pretty decent hitting prospect. He lacked power, but showed good plate discipline and was an excellent defender.
He played three seasons in the Dominican Summer League, spent one season with the GCL Yankees, and another with the Staten Island Yanks. His slugging in his last two seasons came out to a meager .279. After five seasons of playing the outfield, it was clear that De La Rosa had no future as a major league hitter.
While he couldn't hit, De La Rosa consistently stunned scouts with his defensive prowess. He is a tremendous athlete who had great instincts in the field and great range. He would seemingly track down every ball in his vicinity. That was impressive enough, but his arm stood out even more. He was able to rear back and rocket the ball on a clothesline into the infield whenever given the opportunity.
Wilkin De La Rosa's raw arm strength got him a second chance at becoming a major league baseball player. The fact that he is a lefty made turning him into a pitcher even more appealing to the team. I don't think the Yankees could have predicted how quickly he would adapt to pitching, though.
When he first took the mound, De La Rosa was immediately able to dial his heater up to 94. A lefty who throws 94 is going to get a ton of chances to succeed, and his velocity has even increased since then. After five seasons as a mediocre hitter in the farm system, De La Rosa had reinvented himself as a pitcher when he dominated the Gulf Coast League in 2007 as a 22-year-old.
He was of course a bit old for the league, but he was so new to pitching that it was extremely impressive that he was able to strike out 12 batters per nine innings. After his success in 24 GCL innings, the Yankees decided to be a bit aggressive with De La Rosa in 2008 and push him to full season ball.
Still developing his changeup and slider, De La Rosa thrived. He struck out over 10 batters per inning and walked less than four. It would have been nearly impossible to predict a converted outfielder to pitch that well in his first full season on the mound.
Even though De La Rosa hadn't pitched above A-ball, the Yankees thought it was necessary to add him to the 40-man roster and protect him from the Rule Five draft. The Yanks figured that other teams would drool at the opportunity to pick up the hard-throwing lefty and hide him in the back of their bullpen for a season.
In 2009, the Yankees appeared to be slowing it down a bit with De La Rosa. Instead of jumping to Double-A after dominating A-ball in '08, he returned to Tampa to start the year. Well, that sure didn't last long. In three starts, he gave up only two runs while striking out 17 and walking four.
Pitching for Double-A Trenton, De La Rosa finally was challenged. At every other level, he maintained a walk rate under 7.60 percent. In AA, that number jumped up to 11.82 and his strikeouts dipped, too. His ERA remained an attractive 3.48, but the decline in peripherals didn't match up with that.
The obvious explanation for De La Rosa's struggles would just be the fact that he was facing more advanced competition; that may not be the case. Throughout the season, he had nagging injuries that affected how he was able to throw certain pitches.
Because of his decline in numbers for Trenton, De La Rosa will repeat Double-A in 2010. According to VP of Baseball Operations Mark Newman, Lefty Wilkin de la Rosa has a spot on the 40-man, but he's scheduled to repeat Double-A this season. And he's scheduled to stay in the rotation.
"It's too early to tell (whether he'll eventually move to the pen)," Newman said. "I feel very comfortable about him being able to pitch out of the pen. It's too early to tell if he's going to be able to be a starter. The stuff is certainly good enough. He can do things you need to do to be a left-handed bullpen guy. If he pitches some more, we'll see if the command is good enough to stay in the rotation."
The Yankees clearly like De La Rosa and will give him every shot to stay in the rotation, which is something that they're rightfully committed to with most of their pitching prospects. The idea of a lefty pitcher who has a scouting report that says he can reach 97 with his fastball and can use his changeup as an out pitch is a tantalizing one. It's important to remember how new to pitching De La Rosa is. Even at 25-years-old, it's quite possible that he can improve his slider enough to make it a solid third pitch. If not, as Newman says, a lefty with De La Rosa's velocity will always have a spot in the bullpen.
For more prospect profiles and other great content, check out the new and improved Pending Pinstripes.
Read more New York Yankees news on BleacherReport.com