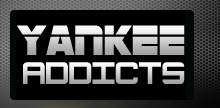 May 6, 2009 · Joey Corso · Jump to comments
Article Source: Bleacher Report - New York Yankees
Ask anyone who has ever been associated with Major League Baseball what the greatest team of all time is, and you're likely to hear a common answer.
The 1927 New York Yankees.
"They just beat our brains out," said Hall of Fame outfielder Al Simmons after absorbing one of the Yankees' 110 wins that season. The Murderers' Row Yankees featured, count 'em, four Hall of Fame players in their lineup, including two of the top hitters all time, Babe Ruth and Lou Gehrig.
To this day, most experts still recognize the 1927 Yankee offense as the best of all time, justifying its well-documented nickname.
They could pitch as well, evidenced by their league-leading 3.20 team ERA. The rotation was anchored by another pair of Hall of Fame players in Waite Hoyt and Herb Pennock, who were each in the prime of their careers. Even their back-end guys, Urban Shocker, George Pipgras, and Dutch Reuther, were so good they could have been No. 1 or No. 2 starters on nearly any other team in the league.
As great as all of these players were, no player was arguably more indispensable than a 30-year-old pitcher named Wilcy Moore.
During the 1927 spring training, Moore was easily the Yankees' most effective pitcher. However, the rotation was already rock solid, which forced yet another Hall of Famer, manager Miller Huggins, to get creative.
Huggins came up with the first "fireman." The job wasn't a one-inning closer, but a far more valuable commodity whose job usually called for coming into a game with men on base, getting out of the jam, and then closing the game.
From the beginning of the season until the end, it was a match made in heaven. One writer noted Moore "specializes in treating ailing ball games and putting them back in healthy condition," which led to the nickname "Doc."
What made Moore so unbelievable? After breaking his arm two years earlier, he was forced to throw sidearm. As a result, he developed a deadly sinker that moved down and away on lefties and up and in on righties. Hitters were flummoxed by the pitch all year as Moore went on to finish the regular season with a league-leading 2.28 ERA and 13 saves in 213 innings over 50 appearances (including 12 spot starts).
Well, Moore was not exactly the first of his kind, but a close second. Washington Manager Bucky Harris had employed relief ace Firpo Marburry in a similar role that helped the Senators win back-to-back pennants in 1924 and 1925. Yet neither of those seasons were as remarkable as Moore's, as his came about on the most legendary team in baseball history.
Moore continued dominating in his unusual but highly effective role during the World Series against the Pirates, picking up a complete-game win in a rare start and a save in a Yankees' sweep.
Although nearly all the press went toward Ruth and Gehrig, who continued to mash during the entire series, it's clear Moore had an enormous effect on the team's success.
Even if few noticed what a historical season Moore was having, you can count the Babe, who hit a well-documented 60 home runs during the season, as one who did.
"I don't know where Moore was when all the scouts were gum-shoeing around those parts, because he was just about the best pitcher in our league in 1927," Ruth said at the time.
More than 80 years later, the role Moore once dominated is quite frankly nonexistent. We are in an era of specialists and one-inning closers, surely a sight that makes some old-timers cringe.
Yet for a long stretch in time after that trailblazer season, truly remarkable fireman emerged, including Hoyt Wilhem and Goose Gossage, who each now have a plaque in Cooperstown.
Moore never duplicated his 1927 success and was out of the majors for good after the 1933 season.
In retrospect, Moore's season not only pushed his team over the top to legendary status, but you could say it was the birth of the modern relief pitcher as we know it.
Yes, the job has evolved over the years, but the original purpose is the same: Put in a fresh arm to get out of a jam in a close game and then go finish out the victory.
Ask the casual baseball fan about what made the 1927 New York Yankees so magnificent and they will probably mention the hitting of Ruth and Gehrig.
A Yankee fan who knows his history would mention the majority of Murderers' Row from the season and could then rattle off a starting pitcher or two.
Yet only those very knowledgeable few would mention Moore, a one-year fireman wonder.
Forever, though, Moore will have a place in baseball lore—the pioneer of the relievers.