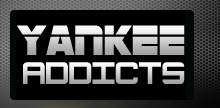 April 1, 2013 · Aashish Sharma · Jump to comments
Article Source: Bleacher Report - New York Yankees
The Red Sox and Yankees will face off at 1:05 p.m. this Monday afternoon. The "greatest rivalry in sports," will be renewed for the first time in 2013—but then again is it still a rivalry?
Sure it is. Rivalries of 100 or so years don't just fizzle out, but they do fluctuate in intensity.
In its prime, the Red Sox-Yankees rivalry was one of the most celebrated spectacles in professional sports. But recently it seems to have lost its fervor.
2004 marked the peak, and since then the rivalry has been in a steady decline.
That is not to say there haven't been intense moments since. There is obviously the Kevin Youkilis-Joba Chamberlain beef, which ended ironically—the two are now Yankees teammates.
Then there was the incident in August 2009 when Dustin Pedroia took exception to a bean-ball from Yankees pitcher Mark Melancon. Pedroia was escorted to first base by Jorge Posada as he and Melancon exchanged words.
But as any Boston or New York fan will tell you, it simply hasn't been the same. The once epic rivalry has gone soft and many are left wondering why.
Well, here are a few theories.
(Also be sure to check out: The 10 Greatest Red Sox-Yankees Moments of the Last Decade)