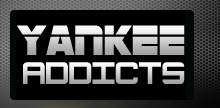 June 5, 2009 · A.J. Martelli · Jump to comments
Article Source: Bleacher Report - New York Yankees
He burst onto the Major League Baseball scene in 2003, crushing a grand slam home run in his first home game with the New York Yankees.
So far this season, Hideki Matsui has eight homers, 22 RBI, and is batting .256. But he is certainly not the durable player he once was, and the Yankees should consider trading him.
In his first three seasons, Matsui played in every single game, compiling a streak of 518 consecutive games played. In his 519th game against Boston on May 11, 2006, he broke his wrist and was sidelined for the majority of the season.
The next year was a bit of a comeback season, as he was able to play in 143 games, belting 25 homers and driving in 103 runs while batting .294.
But during the 2007 offseason, Matsui's body betrayed him and he underwent arthroscopic surgery on his right knee. In 2008, his left knee became an issue, and he was limited to 93 games.
This year is the final year of his contract, and with the way he is going, it would be wise for the Yanks to cut their losses and shop Godzilla to another team.
It's not like the Yankees haven't thought of this already.
Prior to the 2008 season, New York was supposedly working on a deal with the San Francisco Giants to trade Matsui for younger pitching talent.
Tim Lincecum and Matt Cain were two young hurlers on the Yankees' radar, but the deal was never made. The question now is, what team would want Matsui, and who would they give up for him?
Most teams are probably not in the market for a nearly 35-year-old designated hitter.
Let's face it, Matsui is not an outfielder anymore. He has no range, no arm, and with surgically repaired knees, he cannot run.
Obviously, the idea of swapping Matsui to the National League is out.
However, if an American League team is not going anywhere and is quickly falling out of its division, the Yankees may have a shot to say sayonara to Matsui.
For instance, if the Cleveland Indians remain under .500 and stay at the bottom of the AL Central, Matsui might be a member of the tribe by season's end. The Yanks could make a deal for outfielder Trevor Crowe or acquire another arm from Cleveland's bullpen.
Jensen Lewis, a 25-year-old right-hander out of Vanderbilt, is someone Yanks general manager Brian Cashman should keep an eye on.
Or how about the Oakland Athletics, who are currently stationed in the basement of the American League West? The Yankees could look into a trade, sending Matsui to Oakland for reliever Brad Ziegler or 23-year-old outfielder Aaron Cunningham.
Ziegler has 14 strikeouts in 22 2/3 innings pitched this season, and Cunningham is showing promise as an outfielder, with a home run and four RBI in only 11 games.
The old saying is, "you can never have enough pitching," but an extra corner outfielder could help take the pressure off Nick Swisher, who has been starting in right field on a consistent basis.
Xavier Nady was set to be the Yankees' everyday right fielder, but they may not see him for the rest of the year. Players like Crowe and Cunningham would help give Swisher a day off in right once in awhile.
The Yankees may also look into trading Matsui to the Chicago White Sox, maybe for a player like Jermaine Dye, who is also in the final year of his contract and will be a free agent in the offseason.
Dye, 35, has put up better numbers than Matsui (Dye has 14 homers so far this year in comparison to Matsui's eight) and unlike Matsui, he can play the outfield on a regular basis.
Two seasons ago, rumors swirled about the White Sox possibly looking to give Dye to the Yankees in exchange for Bobby Abreu when Abreu was not hitting and the Yankees were struggling.
The deal never came to fruition.
Dye would most likely not stick around for 2010, but looking ahead he would give the Yankees power in the form of an established outfielder down the stretch and into the postseason.
The Bombers might also weigh their options and call up Austin Jackson from Triple-A Scranton/Wilkes-Barre, allowing them to only target pitching in a deal for Matsui.
If the Yankees were to go after pitching, another name to keep an eye on would be Brian Bannister, if the Kansas City Royals remain out of the race in the AL Central.
Bannister has already experienced pitching in New York before, as he was with the Mets before being dealt for Ambiorix Burgos, a "Brock for Broglio" trade.
Even though he is a starter, Bannister could take pressure off Andy Pettitte, who is showing signs of age, and may also be used as a long reliever if Chien-Ming Wang cannot get his act together.
Whichever way it goes, the Yanks must dismiss Matsui, and do it in a classy way as only they can.