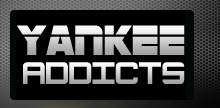 May 13, 2009 · Daniel Mader · Jump to comments
Article Source: Bleacher Report - New York Yankees
Remember that run the Yankees made in the late '90s, when they seemed unbeatable when it came to the playoffs and the World Series.
Well where did that go?
Some say it's our pitching that hasn't been as good since then, some say we don't have enough hitters who hit for average, and Boston fans say the curse is reversed.
However I don't agree with any of that. First off I'm not big in to superstition. Derek Jeter, Jorge Posada, Andy Pettitte and Mariano Rivera are all still on the team from those glory days and all of them play with the same consistency as then (of course, there is a little drop off due to age).
Yankees have had Mike Mussina, Kevin Brown, and Roger Clemens pumped up on steroids pitching for us over the years since that run in the late '90s so it couldn't of been completely the pitching's fault.
They also have had trouble in the bullpen besides Mariano over the years but when Joba was in the bullpen we really shortened games then as well as we did in the late '90s so it's not completely their fault either.
One of the biggest things year in and year out Yankees spend money on are big time hitters. We have had Jason Giambi, Bobby Abreu, and A-Rod for crying out loud so it can't just be are hitting either.
It comes down to one thing and that is the team's demeanor throughout the season and playoffs in recent history. Top to bottom, from the Steinbrenners all the way to the bench the demeanor has to change.
Yankees in the games that I've watched over the past few years they do not ever seem to show a sense of urgency after losing games especially in the playoffs.
Whether it was Torre or now Girardi, their personalty is to never panic and let the players play. I'm all about not panicking, but panicking and showing urgency are two very different things.
Yankees sit back and wait to get hot as a team before they start to play well. While many other teams try to make themselves hot. Teams do this by playing much more aggressively with hit and runs, taking risks on bases, and show emotion to spark the other players around them.
I have become frustrated with the seemingly lack of hunger to get back to the playoffs by watching the body language of every player on the field with the exception of Derek Jeter. After their five game losing streak I saw absolutely no urgency on players faces to change around their recent struggles.
Time to wake up Yankees and remember why you became Yankees in the first place. Show that you are all not premadonnas and play like you got something to lose.