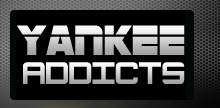 January 22, 2013 · Colin Tansits · Jump to comments
Article Source: Bleacher Report - New York Yankees
Although the New York Yankees and their GM Brian Cashman say they are still looking for pieces in 2013, much of the big spending is most likely over (via ESPN New York).
Cashman has been operating under the order by Hal Steinbrenner to have the payroll in New York under $189 million by the beginning of the 2014 season.
This may seem like a worthy goal to get the team under the MLB luxury tax that has been affecting New York since it was instituted in 2003.
But cutting payroll to squeeze the Yankees under the tax line shouldn't be the goal in the Bronx.
The goal should be to win the World Series. For that to happen, New York must spend more than $189 million.
Before jumping ahead to 2014, let's review the more recent offseason moves made by the Yankees.
After re-signing veterans Andy Pettitte, Ichiro Suzuki, Mariano Rivera and Hiroki Kuroda New York also added a few more players, most notably former Boston Red Sox third baseman Kevin Youkilis.
Cashman continued his creative approach to putting a solid bench together in New York, signing Russ Canzler and Thomas Neal.
This new style of adding seemingly random veteran players on short term and non-guaranteed contracts, beginning with the pick up of Bartolo Colon and Freddy Garcia in 2011, has had mixed results.
Although Colon saw some success in New York, he finished the year struggling and ended up with a losing record.
Since 2011, Cashman has continued to find players to fill in holes for a season or parts of a season.
But since this trend began, New York has yet to return to the Fall Classic.
In 2009 when New York won the World Series, there were only four players on the roster over the age of 35.
The 2012 roster doubled that number with eight players over the age of 35, and of the top six paid players in New York, four are 35 or older.
In 2011 and 2012, New York had the oldest team in baseball, and heading into the 2013 season the Bombers are currently the second oldest team in the MLB.
The point is that the Yankees are old and have been for a few years.
To win the title in 2014, New York will need to get younger even though they have a few aging players locked into big multi-year deals (i.e. Alex Rodriguez and Derek Jeter). This will be difficult since the organization doesn't exactly have one of the best minor league systems in 2012.
For immediate success in the coming years, Cashman will need to find a way to pick up top young talent.
The kind of talent that can make it through a year without manager Joe Girardi needing to platoon positions (i.e. moving Jeter and Rodriguez to DH).
B.J. Upton signed a five-year $75.25 million contract with Atlanta this offseason.
Younger players like Upton may not exactly be cheap, but they would be instrumental in building a top team.
The Yankees may be done agreeing to any more multimillion-dollar deals this offseason, but heading into 2014 they will need to spend more than $189 million.
With big multi-year deals owed to Rodriguez, Jeter and even Ichiro, New York will need to bypass their goal of saving money and invest in younger stars.
Because really, the only real goal should be to win the World Series, right?
Read more New York Yankees news on BleacherReport.com