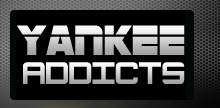 May 24, 2009 · Nikil Ramanathan · Jump to comments
Article Source: Bleacher Report - New York Yankees
I have always been a fan of the New York Yankees. I loved them through the dynasty, through the early 2000s, and I still love them today. But sometimes you just get frustrated with an organization, especially one that is inarguably the greatest franchise in all of sports.
Yesterday's win against the Phillies epitomizes everything that is right with the Yankees and yet everything that is wrong with them. This is a star-powered offense that can't hit for eight innings, but breaks out against none other than Brad Lidge.
And while Alex Rodriguez came up with the clutch two-run home-run that tied the ballgame, it was truly the young Yankees that WON it for them.
First, Robinson Cano hits a single. Then he steals second, and keep in mind this is just Cano's second stolen base of the year. And then Melky Cabrera hits a looping single into right-center to seal the deal.
Melky Cabrera has been a great addition to the Yankees since they brought him up over a year ago. Here's a guy that has brought back the idea of winning baseball games with small ball. He's a guy that has given them great defense in the outfield.
He has five walk-off hits in his career, more than any other Yankee in that span. It is quite incredible to even think that the hero behind many of these Yankee wins has been Cabrera, particularly when you think about who else is on their team: the Jeters, the A-Rods, the Teixeiras, the Damons, the Posadas, etc
Now this is taking nothing away from any of them. Jeter has earned his pinstripes from day one, as has Posada. A-Rod has been incredibly clutch in the regular season, though his postseason struggles and his steroid use will still always dominate his image. And Damon has been the sole producer for the Yankees this year from April to now.
But the Yankees teams of the late '90s were never about having the big names, and hitting home runs. They were about great pitching from "good" pitchers. They were about big hits from "good" players. They were about winning games, no matter how they do it. And they were about team chemistry.
Think about the great innings the Yankees got from guys like Moose and Clemens. Guys like David Cone, and David Boomer Wells. The great production all year from Andy Pettitte.
Then think about the clutch guys. Paul O'Neill. Tino Martinez. Bernie Williams. Derek Jeter. Jorge Posada. Scott Brosius. The list goes on and on. These weren't guys that they had to PAY to play. These were good players that became great, perhaps legendary when they played TOGETHER.
Think about the farm system of the Yankees. Now look at it today. There is no comparison. The fact is no one was complaining about the Yankees spending money when they won any of their 26 world series championships. But now, ironically, when they can't win, they are getting complaints about buying their teams.
The farm system is what made the Yankees great. It was never about buying players, it was about growing them up to become great. Nowadays the Yankees are quick to sell out young talent if it means getting a "big name" player.
But that's the problem here. The Yankees have messed up on nearly every acquisition of this type. Gary Sheffield? Alex Rodriguez? Jason Giambi? Carl Pavano?
Soon the Yankees must realize a couple of things. It's about winning games, not personal wants. All these guys are me-first players. Even yesterday, you could see the difference between a "true Yankee" and Mark Teixeira, who struck out on three straight pitches, likely because he was trying to tie up the ball game rather than make contact.
It's time the Yankees go back to their farm system and build it up. Look at the future of the Yankees in Robinson Cano, a fantastic second basemen. Melky Cabrera, the new Mr. Clutch, Phil Hughes, a more than adequate fifth starter in the big leagues if you give him the chance, and Joba Chamberlain, a lights-out starter or reliever.
For once, The Yankees must admit the Sox have done it right. They never spend as much as the Yanks, yet they get the same if not better production from "worse" players.
They get better postseason production from Lowell than the Yanks do from A-Rod.
They get the same production from guys like Kevin Youkilis, Dustin Pedroia, Jon Lester, and Jonathan Papelbon, people they have groomed into top-notch players.
How good are the New York Yankees? They have been great this year. But they can be even better. They need to go back to their old habits of building team chemistry first and foremost. And then, from there, they need to bring more Melkys, more Canos, more Jobas and more Hugheses to the team.
So as far as I am concerned, yesterday's win was less about A-Rod, and more about Cano and Cabrera. It was more about showing that the young Yankees can do it just as well as the big name ones. And it was more about showing that Melky Cabrera should be the face of this franchise just as much as the rest of these guys.
Make no mistake, The Yankees are Derek Jeter's team. But as the real Yankees like Posada and Jeter and Rivera slowly age and fade away, it's time the new Yankees pick up the slack.
And I'm not talking about Teixeira and A-Rod.
I have always been a Yankees fan and I always will be. But I feel like the team has strayed from the prestigious title of "Yankees" and have truly become "The Evil Empire". And the only way back is to bring back the aura of the "New York Yankees" which existed in the late '90s.
It's certainly a tough road ahead, but I have no doubt the Yankees will be a better team even without spending bundles of money every offseason. Yes, even if it does mean a year of "rebuilding" and not "reloading."