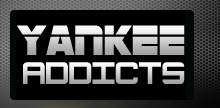 March 4, 2013 · Sam Stryker · Jump to comments
Article Source: Bleacher Report - New York Yankees
The New York Yankees may not be able to count on their usually deep lineup of monster mashers to propel to the team to regular season success in 2013. That's why first baseman Mark Teixeira is the make-or-break player in the Bronx Bombers' 2013 campaign.
Teixeira only played in 123 games in 2012, hitting .251 with 24 home runs and 84 RBI. He's going to have to not only stay healthy in 2013 if the Yankees are to avoid missing the playoffs for the first time since 2008, but he's going to have to step up his production.
The Yankees lost some big names in the offseason, most notably outfielder Nick Swisher to the Cleveland Indians and catcher Russell Martin to the Pittsburgh Pirates. Swisher clubbed 24 home runs and 93 RBI last season for New York and Martin added 21 home runs and 53 RBI. Their presence will be missed in New York's lineup.
But what's more troubling is the aging Yankees are looking creakier than ever.
Captain and shortstop Derek Jeter is coming back from an ankle injury sustained in last year's playoffs. Jeter led the Yankees and was fifth in the American League in 2012 with a .316 batting average and 216 hits.
Third baseman Alex Rodriguez is out until at least after the All-Star break with a hip injury, and general manager Brian Cashman said A-Rod's absence could extend the length of the season in an interview with WFAN. Rodriguez chipped in 18 home runs and 57 RBI in 2013.
And outfielder Curtis Granderson is out with a right forearm injury, putting his return to May at the very earliest, according to ESPN. Granderson led the team with 43 home runs and 106 RBI last year.
Yes, Jeter will be back with the team to start the season, and Granderson should be joining the team shortly after that. And the Yankees will benefit from the signing of third baseman Kevin Youkilis, who should make up for some of Rodriguez's lost production.
But in many ways, New York's season is riding on Mark Teixeira.
Along with All-Star second baseman Robinson Cano, Teixeira is the heart of the Yankees lineup. Pushing for a new contract, the Yankees should expect for another sterling campaign from Cano.
The second baseman had an all-around great season in 2012, hitting .313 with 196 hits, 33 home runs and 94 RBI. Cano hits for power and average and is a vital cog in the Yankees offense.
But he needs protection in the lineup, and the slugger Teixeira is his best bet for help. The Yankees can only hope that Teixeira's injury-shortened 2012 campaign was an aberration and that the first baseman, who turns 33 in March, is bound for a bounce-back year.
Prior to 2012, the last year Teixeira had not hit at least 30 home runs and 100 RBI on the season was his 2003 rookie campaign, when he hit 26 bombs and batted in 84 runs. He had played in at least 150 games every year since 2008.
The one statistic the Yankees should be concerned about is Teixeira's OPS, which has gone down every season since 2007. With the stakes this high in 2013, Teixeira can't just be looking to jack home runs every at-bat—he needs to be a consistent force at the plate for the Yankees.
Pitching may not be as much a concern for the team in 2013.
Yankees southpaw ace CC Sabathia had yet another stellar campaign, throwing 200 innings and striking out 197.
Hiroki Kiroda looked sharp in his first year in the American League East, pitching to a 3.32 earned-run average and throwing 20 quality starts.
Lefty Andy Pettitte only pitched in 12 games last season, but he struck out 69 batters and pitched to a 2.87 ERA.
Even righty Phil Hughes had a solid, if not spectacular, season, leading the team with 16 wins and throwing nearly 200 innings.
And with all-time great closer Mariano Rivera returning to the team and leading the bullpen, New York should be fine toward the back end of games.
The Yankees' main cause for concern is thus the offense, a strange proposition for the Bronx Bombers. The team led the major leagues in clubbing 245 home runs in 2012 and scored 804 runs, second in baseball to the Texas Rangers.
New York knows it can count on Cano and Granderson when he returns, but the second baseman and outfielder need help.
If Teixeira returns to form and is that third big bopper in the Yankees lineup, things are looking up in New York in 2013 and opposing pitchers better watch out. If not, the Bombers could be in for a long season with a serious power outage.
All statistics are via ESPN.
Read more New York Yankees news on BleacherReport.com