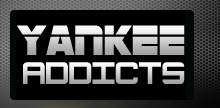 April 9, 2010 · Lou DiPietro · Jump to comments
Article Source: Bleacher Report - New York Yankees
It's often said that the best umpires, referees and officials in sports are the ones that fans don't notice.
Apparently, no one gave Major League Baseball umpire Joe West that memo.
Earlier this week, West, who was crew chief of the crew that worked the season-opening Yankees versus Red Sox series, gave quotes to Bergen Record reporter Jeff Roberts that basically criticized the two teams for their pace of play.
"They're two of the best teams in baseball. Why are they playing the slowest?" West quipped, later adding, "It's pathetic and embarrassing. They take too long to play."
Clearly, umpires don't get paid by the hour.
But they also don't get paid to criticize the men they govern. This is an example of personal bias that could eventually be a factor down the road.
And for that, Joe West should be fined and/or suspended by Major League Baseball, or at the very least have his crew removed from future Yankees versus Red Sox assignments.
Why not? Any time a player or manager criticizes the officiating crew in baseball (or any sport, for that matter), the league comes down on them like an Iron Curtain government.
Mariano Rivera struck back in Friday's New York Post , insinuating that West has a job to do and should do his job.
"If he (West) has places to go, let him do something else. What does he want us to do, swing at balls? … We don't want to play four-hour games, but that's what it takes," said the Yankee closer. "We respect and love the fans and do what we have to do, and that's play our game."
How much would you bet that Rivera gets fined, or at the very least, a nice, stern talking-to?
You know he will. So what's a player to do?
Do they really have to stand back and take flak like this, either because they know their own pocket will get a little lighter, or even worse, take the risk of an umpire seeking retribution that only he and the player know they're taking?
I understand that Major League Baseball wants to speed up their games, and enlists the umpires to help them out. I'm also not overtly insinuating that West would ever compromise the integrity of his job to do so. He's obviously a highly-regarded umpire, one good enough to have worked the 2009 World Series.
But wouldn't most fans believe that could happen? I mean, if West does a Yankees game down the line and squeezes the strike zone on Rivera down to the level of, say, Miguel Aguilar of Bad News Bears fame, don't you think this incident will come rushing back as rationalization?
To me, this is the equivalent of your average office slacker going on Facebook and saying something to the effect of them criticizing customers, bosses and co-workers because they don't like their work ethic.
You know what happens if a boss sees that? Ask the kid that the Philadelphia Eagles fired last March for calling the franchise "retarted" on Facebook after Brian Dawkins was let go.
While Rivera spoke out, at least a couple other Bombers were more diplomatic when asked about West's crewmate, Angel Hernandez—who tried to take initiative later in the series by refusing to grant time outs to various players while behind the plate.
"I'm not really one to say much about umpires," said Yankee shortstop Derek Jeter.
Fellow victim and Yankee teammate Jorge Posada passed the buck and told reporters to "Ask Angel" because he has "no idea what that was all about."
Boston and New York are notorious for playing long games, and I will agree that as a fan, they can be a pain to sit through.
But I don't get paid to watch them…quite the opposite, actually.
So if Joe West doesn't like his assignments…maybe he really should find another line of work.
Or at least shut up about it.
Read more New York Yankees news on BleacherReport.com