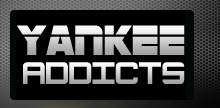 December 18, 2009 · Giants27 · Jump to comments
Article Source: Bleacher Report - New York Yankees
Nick Johnson has reportedly signed a 1-year/$5.5 million contract with the New York Yankees.
His signing clearly states that Johnny Damon's time as a Yankee is over.
Damon is 36 and saw his asking price of 2-years/$26 million from this morning drop to 2-years/$20 million as he tried to stay in pinstripes.
The move is not only curious considering he'd have cost only $4.5 million more a year than Johnson and Hideki Matsui only cost the Angels $6.5 million.
Now Matsui has bad knees so it's understandable as to why the Yankees opted to go with a younger Johnson with knees that are actually usable.
But, Damon brought speed to the DH spot which Johnson clearly doesn't. A bat that tends to find the ball in the clutch also doesn't hurt.
Damon, despite being 36 has remarkably found a way to stay healthy which Johnson who tore a ligament in his wrist during the 2008 season hasn't done yet.
Flexibility certainly could've played a role in the Yankees decision to send Damon packing considering his ability to play outfielder has greatly diminished while Johnson is still a serviceable backup at first base.
Despite, Damon's limited defensive role he still has a .288 batting average and .355 on-base percentage in his 14-year career while in eight years Johnson has a .273 average and .402 on-base percentage.
The numbers cancel each other out with Damon having a better batting average and Johnson getting on-base but if you consider than Damon has been in the league for six more years then he's clearly more impressive.
Damon's career productivity all the way up to this year combined with his ability (as limited as it may be) to play outfield and arguably being the third or fourth guy compared to Johnson who joins Teixeira and occasionally Swisher at first base shows Damon's worthiness to this team.
I don't doubt the Yankees wanted to save the money for pitching and potentially Mark DeRosa but being cheap and taking the lesser option is not the way to go when you seemingly have a bottomless amount of money.
Read more New York Yankees news on BleacherReport.com