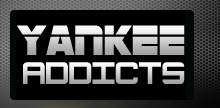 March 9, 2012 · Peter Alfano · Jump to comments
Article Source: Bleacher Report - New York Yankees
What do Lefty Gomez and Whitey Ford have in common besides being left-handed pitchers?
They are the only pitchers originally signed by the Yankees who are in the Baseball Hall of Fame.
As difficult as it might be to believe given that the franchise has 27 World Series titles, more than double the 11 won by the second-place St. Louis Cardinals, the Yankees have had mixed success with developing their own pitchers.
Maybe that's to be expected when they are known as Murderer's Row and the Bronx Bombers.
The Yankees have had some top flight pitchers come through the organization over the years such as Ron Guidry, Mel Stottlemeyer, Andy Pettitte and future Hall of Famer Mariano Rivera. But many of their most noteworthy contributors began their career elsewhere.
Hall of Famer Red Ruffling, who was 231-124 in 15 years with New York, spent almost six seasons in Boston before coming to the Bronx. Don Larsen, who pitched that perfect game against the Brooklyn Dodgers in the 1956 World Series, was acquired from Baltimore. Much more recently, Jim Catfish Hunter, David Cone, Roger Clemens, Randy Johnson, Mike Mussina and C.C. Sabathia were originally drafted or signed as undrafted free agents by other teams.
Michael Pineda, a rookie with the Seattle Mariners last season, makes the list in 2012..
That's why Yankee fans may want to temper their enthusiasm about those good young arms in the farm system. The Yankees have high hopes for Dellin Betances, Manny Banuelos, D.J. Mitchell and David Phelps, among others.
But pitchers are a risky business. The Mets built their franchise around Tom Seaver, Jerry Koosman, Nolan Ryan, Jon Matlack and Dwight Gooden, but even a pitching-oriented organization can swing and miss sometimes.
Look no farther than Generation K with Paul Wilson, Jason Isringhausen and Bill Pulsipher. Only Isringhausen endured, and that was when he was converted to a reliever.
The Yankees have Sabathia and Pineda at the top of their rotation but are counting on home-grown Ivan Nova to produce a solid No. 2/3 starter. He was 16-4 last season. Is he for real or a one-hit wonder?
Joba Chamberlain and Phil Hughes have seen their potential possibly squandered in a never-ending ordeal of pitch counts and indecision over whether they're starers or relievers. Chamberlain is recovering from Tommy John surgery (By the way, John is another successful Yankee who was 91-60 in eight years, but started with the White Sox and then went to the Dodgers).
The Yankees are still trying to determine whether Hughes, now in his sixth year, is the starter who was 18-8 in 2010 or the reliever who was 8-3 in 44 appearances in '08.
They will give him every chance especially after letting Ian Kennedy get away.
So who do we think rank among the best of the Yankees acquisitions over the years?
Here are a few who come to mind: